Living on CampUS
Upcoming Move-In Dates: 
Review our recent communications to Pontchartrain Hall Residents:
July 20, 2021 communication regarding Residential Life Covid-19 Risk Reduction Strategies for Fall 2021.
Fall 2021 Guest Policy: limited to 2 guests that are also members of the UNO community

.

 

Students who are moving in may have up to 2 non-UNO guests assist with their move. Guest hours are 12:00 noon- 12:00 midnight daily. Residents and their g

uest(s) must follow physical distancing measures and precautions regarding occupancy limits of small community spaces. 

Our team will continue to assess the guest policy and make changes as more information becomes available.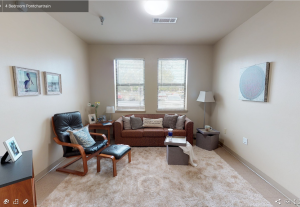 Current Application Processes: 
Spring 2022 Pontchartrain Hall and Lafitte Village Applications and Lafitte Village Lease Renewals Now Available. Room Selection for new Spring 2022 Pontchartrain Hall applicants is tentatively scheduled for December 15, 2021. 
Fall 2022 Pontchartrain Hall Applications are scheduled to open for submission on the Residential Life app on January 13, 2022.
Winter Break: Pontchartrain Halls will close December 11- January 20 for the winter break; students continuing for Spring 2022 housing may leave their items in their suite. For additional details please review the Winter Break Email sent to our Pontchartrain Hall residents.