About the Naval Architecture and Marine Engineering Program
We offer a Bachelor of Science in Naval Architecture and Marine Engineering, a Master of Science in Engineering with a concentration in NAME, and a Ph.D in Engineering and Applied Science. Our graduates routinely find positions well before they graduate in a wide range of incredible enterprises including ship and yacht builders, offshore companies, engineering and design consultants, software developers, and any enterprise where systems engineering is needed.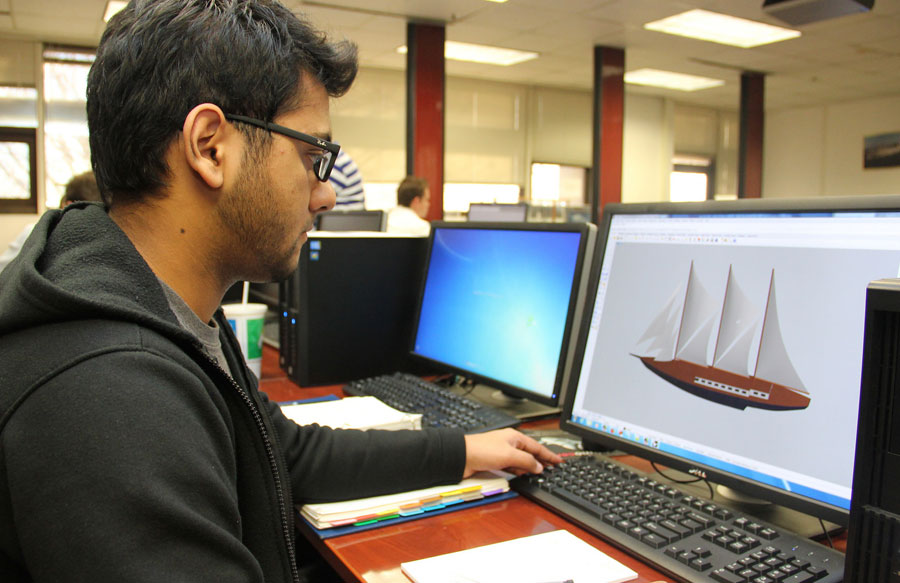 Cutting-edge facilities.
The Boysie Bollinger School of Naval Architecture and Marine Engineering is located in a modern, state-of-the-art, nine-story engineering building that houses specialized laboratory facilities that include:
A 128 ft. long towing tank with a 15 ft. x 7 ft. cross section for model tests of 8 to 12 ft. long models of ships and offshore structures in calm water and in waves, as well as in shallow water with current.
A model shop for projects and for towing tank model and experiment manufacture.
The UNO Structural Test System, a 20 ft. x 20 ft. wide and 10 ft. high space frame with computer-controlled hydraulic actuators for testing aluminum, steel, and composite ship structural components.
A computer-aided ship design laboratory with an array of software packages for marine design and analysis.
A marine engineering laboratory with programs on ship safety, operations, reliability, maintenance, and performance simulation of propulsion systems.