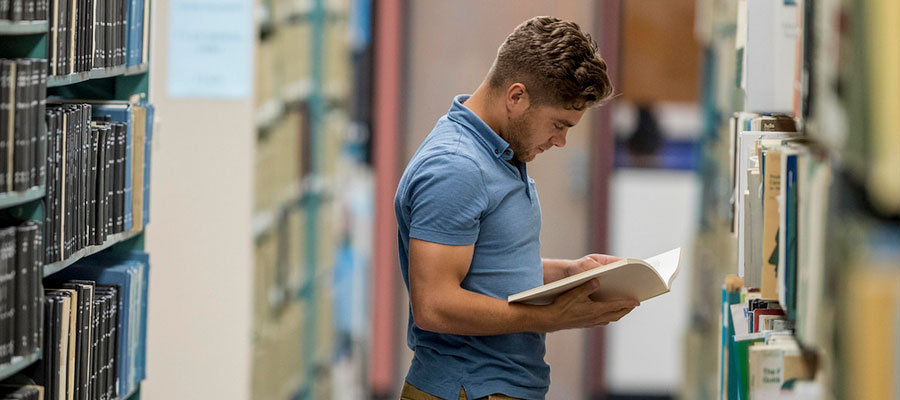 Do you want to get a jump start on your college plans? UNO's High School Dual Enrollment Program is a great way to take classes for dual credit (high school and college credit). High school juniors and seniors in good academic standing can enroll in college courses at UNO, provided they meet the minimum admission requirements.
---
Save time and money by earning transferable college credits in high school
Learn about professor expectations and the responsibilities associated with college coursework
Gain college credit and experience that will put you ahead of your peers when you enter college full-time
Take classes on the UNO campus, at your high school, at the New Orleans Career Center, or online
Commonly Offered Courses:
English: English Composition I & II, Introduction to Creative Writing
Math: Precalculus Algebra and Precalculus Trigonometry, Applied Algebra
Humanities: US History I & II, World History 1 & II, Introduction to Philosophy, Ethics
Foreign Language: Basic French I & II
Science & Engineering: Biology I & II, Introduction to Environmental Sciences, Dynamic Earth, Computer Aided Engineering Graphics
Arts: Introduction to Film Arts, Beginning Film Production
Only at UNO: Engineering Software Tools, Introduction to Hotel, Restaurant, and Tourism, Introduction to Business Administration, Introduction to Teaching
This is just a sample so ask about others.
---
Requirements
Louisiana Board of Regents Dual Enrollment Admissions Requirements:
Enrolled in regents' academic (TOPS-University) core
Minimum High School GPA of 2.50
Minimum 19 ACT Composite or minimum 1010 SAT Total
Minimum 18 English ACT or minimum 500 SAT ERW. Students who meet other readiness indicators but have <18 ACT English may be allowed to enroll in mathematics courses for Dual Enrollment, if they concurrently address their reading/writing deficiencies.
Minimum 19 Math ACT or minimum 510 SAT Math. Students who meet other readiness indicators but have <19 ACT Math may be allowed to enroll in English, foreign languages, or introductory social science, humanities or arts survey courses for Dual Enrollment, if they concurrently address their math deficiencies.
For College Algebra, a minimum 20 ACT Math
Before enrolling in any courses in the Spring semester/term of the senior year, a student must be able to demonstrate college readiness in both English and mathematics.
Additionally, in order for students to enroll in courses, the following conditions apply:
Must be at least a junior in high school
Admitted to UNO prior to the posted deadline
High school provides proof that all published prerequisites are met
Students must maintain a 2.50 High School GPA and a 2.00 UNO GPA in order to enroll in subsequent dual enrollment courses.
Dual Enrollment allows you to take up to 6 credit hours in both the fall and spring semester.
---
Continuing Dual Enrollment Students
If you are a student currently enrolled in UNO's Dual Enrollment program and wish to continue for another consecutive semester, you will need to submit an online request to continue your enrollment.
Keep in mind that you will not be able to register for your next semester's courses until we have received this completed request.
---
Supplemental Course Academy
If you are a student at a participating Louisiana public high school, you may be eligible to register for dual enrollment courses at no cost. To learn more, speak with your high school counselor about the Supplemental Course Academy.
Courses currently offered by UNO can be found here, and additional courses can be requested through dualenroll@uno.edu.
---
Dual Credit Fees
Dual credit fees and college fees apply differently. See how fees apply to you. Learn more
---
Important Policies and Procedures
Dual enrollment course grades are posted to the student's permanent UNO transcript.
Student is responsible for officially withdrawing prior to the posted deadline from any course he/she cannot complete. A course dropped through the 14th class day is not entered on a student's record. A grade of W (withdrawn) is entered for each course dropped after the 14th class. After the 53rd class day, courses may not be dropped. See the current Academic Calendar for exact dates for each semester.
Dropping all classes for a semester is considered resigning from the University. Students are responsible for initiating action to resign from the University (withdraw from all UNO classes) on or before the last day to resign as indicated on the current Academic Calendar. After that date, a student may not resign from the University.
Students who fail to resign by the published final date for such action will be retained on the class rolls even though they may be absent for the remainder of the semester and be graded as if they were in attendance. Failure to attend class does not constitute a resignation.
---
Contact Us
Kimberly E. Esteves, Dual Enrollment Coordinator
504-280-6747 dualenroll@uno.edu
---