Program Fees
The program fee for 2024 is $5,795.00 for UNO students and $6,295.00 for guest students.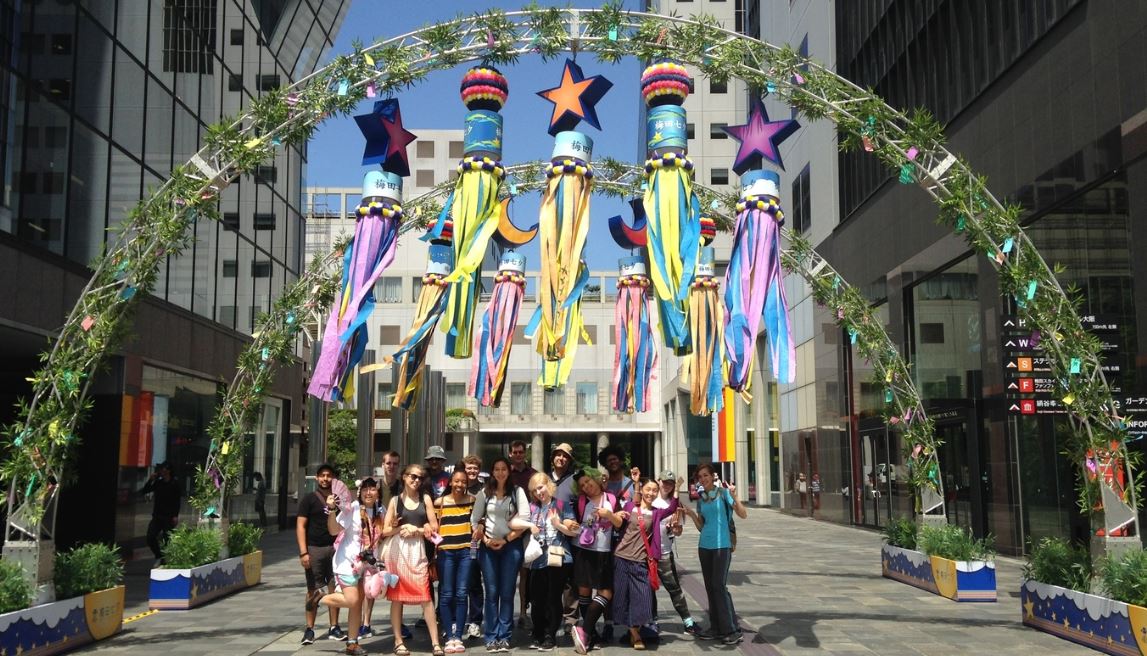 These prices include the following:
Housing in a single dorm room at Doshisha student housing (and first-night stay in a hotel)
Tuition and university fees for six credit hours (2 courses - 3 credits each)
$300 deposit (non-refundable)- required at time of acceptance offer
Guided campus and city tour
Lunch on campus (class days: Monday-Thursday)
Opening reception and closing party
Field trips in Kyoto, Osaka and Nara
Weekly cultural activities and/or guest lectures
Tomodachi Program
Use of Doshisha University computer lab (limited)
30-day city bus pass for Kyoto
Credit transfer fee (for non-UNO students)
Note: Fees and services included may be subject to change. Such costs as airfare, passport fees, personal travel, or items/activities of a personal nature are not included.
Looking for scholarships? Check out our Scholarships and Awards page!
Payment Terms

Upon acceptance to program: A deposit of $300.00 is required. This deposit is non-refundable.
April 1, 2024: Payment in full is due. Participants applying after this date must remit the entire program cost with the application.

All payments made with a credit or debit card will incur a non-refundable convenience fee of approximately 3%.

Unless payments are made on schedule, we cannot guarantee a place in the program.

Paying by check: Make checks payable to The University of New Orleans and mailed to Jennifer Torres, Division of International Education, 2000 Lakeshore Drive, International Center 124, New Orleans, LA 70148.

Paying by credit card: Payments can be made securely online.

Cancellation Policy

By March 1, 2024: Any payments (except $300 deposit) are fully refundable if a student withdraws from the program voluntarily by this date.

As of close of business on March 1, 2024: A cancellation fee of $650.00 will be assessed in addition to non-refundable deposit.

As of April 1, 2024 and until 11 days before the start date of the program: only those monies that can be recovered from vendors by the university will be refunded, less the $950.00 in fees owed ($300.00 non-refundable deposit plus $650.00 cancellation fee).

If a student withdraws within 10 days before the commencement of the program NO REFUNDS WILL BE MADE.

The effective date of a cancellation shall be the date that written notice is received by email to the Program Director at the University of New Orleans at UNOJapan@uno.edu.

Refund policies apply to all students regardless of date of application or circumstance.

In the event that UNO cancels the program for any reason, all program money will be refunded to the student. Otherwise, payment and refund policies are as listed above.

NOTE: the participant remains ultimately responsible for the payment of all program costs regardless of any circumstances such as but not limited to the deferment of payments against the anticipated arrival of financial aid.

Financial Aid for UNO Students

UNO students will be able to fill out the Summer Study Abroad Financial Aid Request (SAFAR) form. You can pick up a form in the Financial Aid office. Be sure you make an appointment with your financial aid advisor to discuss your financial aid package. We send a letter to financial aid with your estimated cost of attendance for the program after you have applied. Students with anticipated aid showing in WebSTAR are usually able to apply those funds to the program balance. Be sure to speak with financial aid and study abroad personnel to confirm.