About the Advanced Materials Research Institute (AMRI)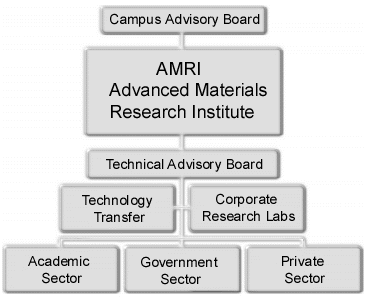 AMRI Organizational Structure
The Advanced Materials Research Institute was formed to meet the research needs of the University of New Orleans in the area of materials science. An organizational diagram (left) of the components of AMRI is shown.
AMRI Advisory Board
The administration of AMRI involves two advisory boards, the Campus Advisory Board (CAB) and the Technical Advisory Board (TAB). The Director of AMRI reports to the Dean of the College of Sciences (Dr. Steven G. Johnson) who consults the CAB on matters pertaining to the administration of AMRI (e.g., appointments to the senior staff of AMRI, ratification of nominations for membership on the Technical Advisory Board, etc.). Although AMRI has a multi-disciplinary research mission, it is sponsored jointly by the Department of Chemistry and the Department of Physics in the College of Sciences at the University of New Orleans and the composition of the Campus Advisory Board reflects this authority.
Members of the Campus Advisory Board
Dr. Steven G. Johnson, Dean of the College of Sciences and Chairman of the CAB
Dr. John B. Wiley, President's Research Professor, Charles J. O'Connor Ph.D. Endowed Professor in Chemistry, Director of AMRI
Dr. Matthew Tarr, Vice President for Research and Economic Development
Dr. Taskin Kocak, Dean, Dr. Robert A. Savoie College of Engineering
Dr. Mark Trudell, Chairman, Department of Chemistry
Dr. Greg Seab, Chairman, Department of Physics
Technical Advisory Board
Industrial and government involvement is crucial to the development of AMRI. A Technical Advisory Board (TAB) oversees the operation of AMRI. The duties of the TAB are to provide expertise and insight as AMRI projects are initially developed and to ensure the value and utility of the research to both the private sector and the Department of Defense. The TAB oversees the development of research initiatives at AMRI, directs the addition and distribution of personnel, conducts a yearly review of the operation and performance of the Institute, and makes recommendations on reallocation of AMRI resources.
Members of the Technical Advisory Board
Dr. Gary Bush, Lockheed Martin, Advanced Technology Center
Dr. Jack T. Vaughey, Argonne National Laboratory
Dr. Dieter Weller, Future Recording Media, Hitachi Global Storage Technologies
Dr. Christopher Bieniarz, Ventana Medical Systems, Inc.
Dr. Stuart Wolf, Institute for Nanoscale and Quantum Scientific & Technological Advanced Research, University of Virginia
Dr. Ben Russo, Cleco Corporation
Dr. Janusz Nowak, T.J. Watson Research Center, IBM
AMRI Research Constortium
AMRI has established a research consortium which includes academic, government, and industrial participants and their research laboratories.
Academic Laboratories & Consortium Partners
University of New Orleans
Louisiana State University
Louisiana State University - CAMD
Louisiana Tech University
Tulane University
Florida State University
Children's Hospital-New Orleans
Communities in Schools (CIS) of New Orleans, Inc.