Meet the Provost
Mahyar Amouzegar, Ph.D.
Provost and Senior Vice President of Academic Affairs
Dr. Mahyar Amouzegar, Provost and Senior Vice President for Academic Affairs, is the Chief Academic Officer for the University of New Orleans. The Provost, through the Office of Academic Affairs, is responsible for managing academic programs and support units and the policies and practices that affect the academic success of students at the University. The Provost provides vision, leadership, and oversight for all academic programs, enrollment management, and information technology.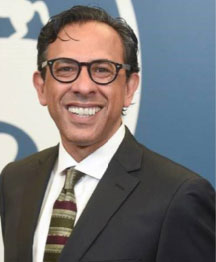 He coordinates strategic planning and initiatives, promotes faculty excellence in teaching, research, and services, and expands opportunities for engagement and outreach in the local, state, national, and global spheres. The Provost reports to the President and collaborates with him in setting and supporting overall academic programs and priorities for the University. He serves our campus community by overseeing undergraduate and graduate education, recruitment and retention of students, faculty affairs, including promotion and tenure, and outreach to the community. The individual colleges and departments that report to the Provost work collectively to support and ensure our students' success.
Dr. Amouzegar earned a B.S. in Applied Mathematics from San Francisco State University. He earned his M.S. in Electrical Engineering, D. Engineering and Ph.D. in Operations Research from the University of California, Los Angeles. He began his career as an Assistant Professor of Mathematics at Massey University in New Zealand. Dr. Amouzegar then spent several years at California State University, Long Beach, serving as the Associate Dean for Research and Development.
He previously held the position of Dean of the College of Engineering at Cal Poly Pomona where he oversaw more than 300 faculty and staff, 12 accredited programs and more than 5,000 students. Dr. Amouzegar was also a Senior Policy Analyst at RAND Corporation, which is internationally recognized as a premier policy think tank. There he served as a researcher supporting military policy issues and was responsible for managing a large group of research and support staff across three sites.
Dr. Amouzegar is passionate about championing student success, engaging with the community, expanding the diversity of the faculty and student body and finding new resources in support of our students, faculty and staff.