M. Kabir Hassan, Ph.D.
Hibernia Professorship in Economics and Finance
Background
M. Kabir Hassan, Ph.D., is Professor of Finance and Hibernia Professor of Economics and Finance in the Department of Economics and Finance. Dr. Hassan is a financial economist with consulting, research and teaching experiences in development finance, money and capital markets, Islamic finance, corporate finance, investments, monetary economics, macroeconomics and international trade and finance. Dr. Hassan has 152 papers published in refereed academic journals.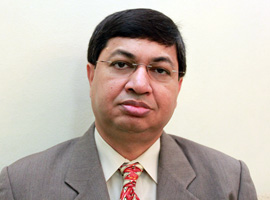 The number of publications would put Dr. Hassan in the top 1% of peers who continue to publish one refereed article per year over a long period of time according to an article published in Journal of Finance. Dr. Hassan has also been cited as one of the most prolific authors in finance literature in the last fifty years in paper published in Journal of Finance Literature. A recent update of this article in 2010 puts him among the top 5.6% of all authors who published in the 26 leading finance journals. He is among the top 5% authors according to number of Journal Pages at RePAC/IDEAS. Dr. Hassan is among the top three presenters in the Financial Management Annual Meetings during 1990-2013. He is editor of The Global Journal of Finance and Economics and Journal of Islamic Economics, Banking and Finance, International Journal of Islamic and Middle Eastern Finance and Management, and Co-Editor of Journal of Economic Cooperation and Development.