Allan R. Millett, Ph.D.
Stephen E. Ambrose Professorship
Allan R. Millett, Ph.D., served thirty-seven years as a history professor at The Ohio State University (1969-2005), Allan R. Millett came to the University of New Orleans in January 2006 to be the Ambrose Professor of History, Director of the Eisenhower Center for American Studies, and Senior Military Advisor to the National World War II Museum. He has been instrumental in establishing a military history program at UNO designed to prepare students for employment as public historians. At Ohio State, Millett was Associate Director of the Mershon Center for International Security Studies and General Raymond E. Mason Professor of Military History. He directed sixty-nine doctoral dissertations to completion, and his students have published seventy books. Millett is the co-author of a military history of the United States now in its third edition and a history of World War II, as well as the author of five books and forty-eight book essays and articles.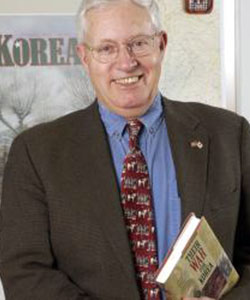 For the last twenty years, he has specialized in Korean War history, producing another five books and seventeen essays and book chapters. He has been awarded seven prizes for teaching and scholarship, two honorary degrees, and the 2008 Pritzker Military Library Award for Lifetime Achievement in Military Writing. He has been a Fulbright Distinguished Visiting Professor in Korea and a senior fellow of the Korea Foundation.