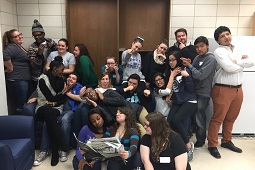 Peer Mentors are an important part of the UNIV 1001 experience. These student leaders are able to share their own knowledge and experience with incoming first years to promote their success at UNO.
Serving as a Peer Mentor has benefits as well. Throughout your training and experience you will develop an enhanced knowledge of university resources, increased appreciation for our diversity, and effective communication and presentation skills.
What is the Role of a Peer Mentor?
Serve as a role model for the new first year students in UNIV 1001
Assist the UNIV instructors by attending all of the class sessions and co-teaching sessions, making announcements about campus activities, and participating in class discussions
Organize out-of-classroom activities, and serve as a mentor and resource for students in their sections
Apply
Applications for the 2018-2019 are now closed.
Qualifications
Completed one year of study at UNO and have completed at least 24 credit hours by the start of the Fall 2018 semester
Minimum GPA of 2.5
Be available for all training and required events
Compensation
Peer Mentors earn $400 for the first section and $200 for each additional section of UNIV they help facilitate.