Welcome to the University of New Orleans!  This page includes links to resources to plan your education in the U.S., apply to the University of New Orleans, prepare to arrive, and get settled in on campus.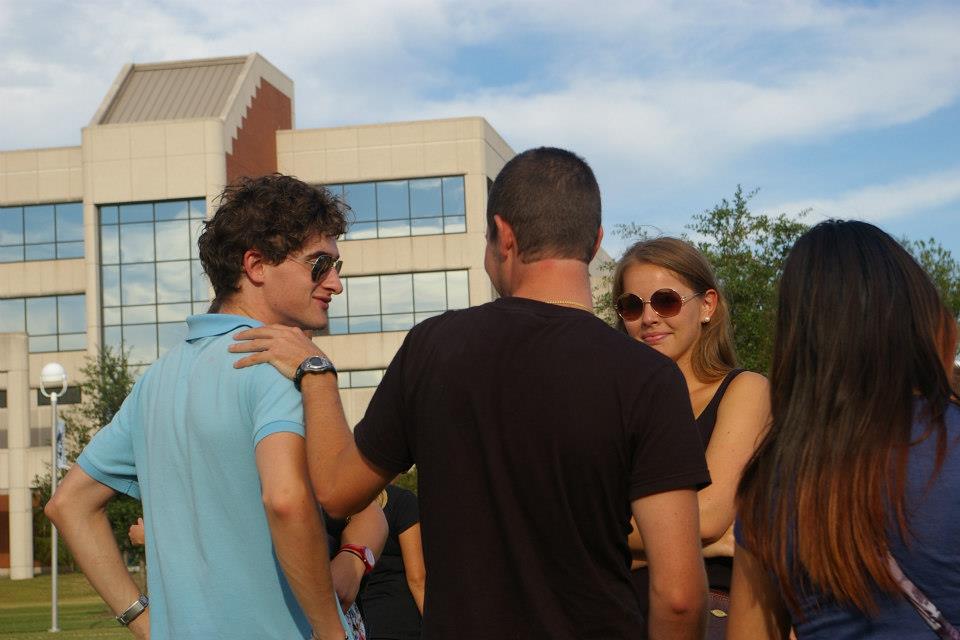 New Student Checklist

Check in with OISS by submitting the following to oiss@uno.edu:

Completed the Student & Scholar Data Sheet
Copy of passport ID page
Copy of current visa
I-94 (print from https://I94.cbp.dhs.gov/I94/#/home)
o Contact OISS if you have difficulty retrieving the I-94 or with printing or saving it. OISS staff will try to access the document after receiving the copy of your passport.

How to scan with your phone

iPhone: You can use the camera, take a scan with your notepad app, or download Adobe Scan and CamScanner See more at https://support.apple.com/en-us/HT210336.

Android: Take a picture or download an app such as Adobe Scan or CamScanner.

 

Find accommodations, if you did not make advance arrangements.

UNO ID Card. Obtain your UNO ID Card.

The regular location is Room 112 in the University Computer Center
IDs are usually available at the Privateer Enrollment Center on the first floor of the Library during the first 2 weeks of the semester.

Open a bank account.

The two closest banks are listed below. Students without U.S. Social Security Numbers must request a bank letter from OISS.

Post Office Box

Students residing on campus need a P.O. Box to receive mail or packages. Visit the UNO Post Office on the first floor of the University Center to learn more.

On-Campus Employment

Graduate/Research/Teaching Assistants and Student Workers must complete the following steps before starting work:

Scholarship Recipients and Student Athletes must also complete the Foreign National Tax Information Form and contact Donna Burroughs, International Tax Consultant, at dburroug@uno.edu.

Campus Alerts

Register for Privateer Alerts, UNO's Emergency Message Notification at https://uno.omnilert.net/subscriber.php.

Get Advised

Schedule Adjustments may be made by contacting your Academic Advisor (undergraduates) or Graduate Coordinator
(graduates). Information for both is linked above in the "Resources" box.

All students must study full-time each semester (undergraduates enroll in at least 12 credits and graduate students enroll in at least 9 credits).
F-1 students are limited to one three-credit online course when enrolled in 12 credits.  At least nine credits must be any combination of in-person and/or hybrid classes.  Students enrolled in more than 12 credits may take an additional online class as long as they have at least 9 credits of in-person and/or hybrid classes.
J-1 students should enroll in all in-person and/or hybrid classes.

Update Your Address

You must notify OISS within 10 days of any move to give us your new Physical Address. You may also update your address in Webstar. These are the types of addresses in Webstar:

The Physical Address is where you reside, the place you sleep at night. It might be a campus address in Pontchartrain Halls, Privateer Place, or Lafitte Village. If you live off-campus, the Physical Address will be the same as your Mailing Address.
The Mailing Address is the place you receive postal mail. If you live on campus, you need a UNO P.O. Box to receive postal mail.
The SEVIS Foreign Address is your address in your home country. Please do not enter your U.S. address in this field. Update the field only if the address in your home country changes.

Health Insurance. International students in F-1 and J-1 status are required to have health insurance and charges for the University's insurance plan are automatically added to the fee bill. Students with their own coverage that meets UNO's minimum requirements may request a waiver of the insurance fee by having their insurance company complete the F-1 or J-1 Insurance Coverage Evaluation Form. Additional information about the insurance and process for the waiver request is available on the OISS website at https://www.uno.edu/oiss/currentstudents/insurance.

OISS Orientation.

New International Student Orientation will be held on Tuesday, August 8. We will send you additional details.

Download a copy of this checklist here

Questions? Need assistance?

OISS staff are happy to help. The best way to reach us is by email at oiss@uno.edu. 

 
Health Insurance
Medical care in the United States can be very expensive, and you never know when you will need to see a doctor. The University of New Orleans requires international students in F and J immigration status to have medical insurance coverage. Charges for the University's insurance plan are automatically placed on students' bills each term. Students with their own coverage that meets the University's minimum requirements may request a waiver of the insurance fee by submitting the F- 1 or J-1 Insurance Coverage Evaluation form (see links at bottom of page) to their insurance company for verification of coverage. The completed form then must be submitted to the Office of International Students and Scholars no later than Friday, August 18th for Fall 2023. Late requests will not be accepted.
---
Housing
Three options for on-campus housing are available. Privateer Place offers apartment-style living with two and four bedroom floor plans. Each unit has a kitchen, so a meal plan is not required. Community-oriented student housing is available in Pontchartrain Halls. Each unit has private bedrooms, and living space is shared with other students. Purchase of a meal plan is required for residents. Finally, Lafitte Village has one and two bedroom apartments for graduate students or students with families.
Transportation

Bus Information

The bus fare in the city of New Orleans is $1.25, exact change only. If you will be changing buses, give the driver
an additional 25 cents to obtain a bus transfer. When you get on the second bus, just give that driver the transfer.
Express buses cost $1.50 — they make fewer stops than regular buses.

Bus stops are marked with a white sign with purple, green and gold stripes. They say BUS STOP and most of
them (not all) list at the bottom of the sign the numbers of the buses which stop at that location.

Jazzy Pass: If you'll be riding the bus several times during one day, you can buy a one-day pass for $3 from any of the bus drivers. With this you can take unlimited rides for the day. You can buy a three-day pass for $9, for unlimited rides during that period. You can buy a five-day pass for $15.

If you ride the bus on a daily basis, you might want to buy a monthly bus pass for $55. The passes are color-coded
by month, so you should buy the pass at the beginning of the month.

Three Popular Destinations

To French Quarter/Downtown:
Take #55 Elysian Fields from UNO to Decatur Street in the French Quarter or to Canal Street near the River. You
can catch this bus at the bus stop in front of Administration Building. Click here to see it on Google Maps


To Tulane and Loyola Universities, Audubon Park and the Zoo:
Get on the #55 Elysian Fields at UNO and buy a transfer. Get off on Canal Street, cross the street, and walk to the corner of Carondelet and Canal to board the streetcar heading uptown on St. Charles Avenue. The streetcar
ride is slow, so give yourself plenty of time. NOTE: Graduate students can check books out of the Tulane and
Loyola University Libraries; ask at the UNO library circulation desk to obtain a LALINC card. Click here to see the trip on Google Maps

To Lakeside Mall and Veterans Boulevard Shopping:
Get on the #60 Delgado Community College at UNO and buy a transfer. Take the bus to Canal Blvd at Mouton
(24 stops). Cross the street and catch the #45 S. Carrollton at Canal (15 stops). Get off at the stop called Veterans at Carrollton. Cross the street to the bus stop heading west. At this bus stop you'll catch the E-1 Veterans
Boulevard bus. For the shopping mall, you get off just past Causeway Boulevard. Click here to see the trip on Google Maps

NOTE: You have to pay another fare when you board the E-1 bus ($1). If you buy a one-day RTA bus pass for
$5.00, however, you can use that for all the buses you ride. The trip to the mall takes about an hour and a half.

Taxis

Taxi prices can vary from one company to the next, but all taxis should have a working meter visible to the customer. It is customary to tip the driver between 10% and 20% of the fare.

United Cabs: 504.522.9771

Metairie Cab: 504.835.4242

Checker-Yellow Cabs: 504.486.9967

Lyft or Uber: Mobile Applications

Rental Companies

You can rent a car until you have your regular transportation arranged. Please note that it is cheaper to rent a car if you are at least 25 years old. You must also have a credit card. Don't forget to buy car insurance!

National Car Rental
https://www.nationalcar.com/en_US/car-rental/home.html
1 (800) 468-3334

Enterprise Rent-A-Car
http://www.enterprise.com/car_rental/
1(800) 261-7331

Avis Car Rental
http://www.avis.com/
1 (800) 230-4898—Assistance
1 (800) 633-3469—Reservations

Thrifty Car Rental
http://www.thrifty.com/
1 (877) 283-0898

Hertz Car Rental
http://www.hertz.com/
1 (800) 654-3131

Dollar Rent A Car
http://www.dollar.com/
1 (800) 800-5252

Alamo Car Rental
http://www.alamo.com
1 (844) 354-6962

Phones & International Calling

Cell Phones & Plans

There are several cell phone providers you can choose form: T-Mobile, AT&T, Metro PCS, Sprint, and Verizon. Unless you already have a U.S. Social Security Number, your first cell phone will be a pre-pay plan. There are many service providers, and each one offers different service plans and options, including "pre-pay" plans that do not require you to pay a monthly fee (you buy your airtime minutes in advance). The following is a list of terms to help you in your choice of a service provider:

Coverage area = area where your phone will be in service.

Roaming = ability to travel throughout the US and still be able to use your phone.

Activation fee = a one-time fee you pay to start your service.

Credit check = the service provider looks at your credit history before starting service.

International Calling

We understand that everyone will want to keep in touch with you and your new journey here in New Orleans, but be careful with international calling fees. If you just use your cell phone to make calls, you find charges add up to hundreds of dollars! Many cell phone plans do not cover international calls (some might include free call and text to Canada and Mexico). Thankfully, there are lots of ways to say connected using the internet! Including Zoom, WhatsApp, FaceTime, Skype, etc. Consider researching/using online calling services to talk with your family and friends back home.

Dialing Long Distance within the US:

1 + Area Code + Number

Dialing Long Distance outside of the US:

011 + Country Code + City Code + Number

You can also purchase International Calling Cards at Rouses (6600 Franklin Ave. (504) 288-1600), Walgreens (6201 Elysian Fields Ave. (504) 283-2891), or many Dollar stores.

Special Phone Numbers:

911 is for emergencies anywhere in the US. Calling this number will connect you with police.

504.280.6666 is the number for Campus Police

1.800, 1.877, and 1.888 numbers: Telephone numbers that start with either of these three numbers are usually
free for you to call. The institution or business that has this number pays for the call.

1.900 and 1.976 numbers are very expensive. You are not only charged for the phone call, but also for some
special service offered via telephone per minute of your call. You may want to consider getting 900 and 976
numbers blocked so that no one can make such calls from your telephone. Blocking the use of these numbers is a
free service. BEWARE of 1.900 AND 1.976 NUMBERS.

Bank Accounts & Paying Tuition

Bank Accounts

Checking Account

In the United States we pay many bills (i.e., rent, telephone, utilities, etc.) or make purchases with a personal check, debit card, or automatic withdrawal. Checking accounts are very convenient. Many supermarkets allow you to write checks or use your debit card to withdraw money over the amount of your food purchases when you need additional cash.

When paying for a purchase by check, you will be asked to show proper identification such as your passport, school identification card, driver's license or a Louisiana Identification Card.

Depending on the bank and the type of checking account you have chosen, you may be charged a monthly and/or per check written service fee. Some banks offer free checking accounts if you maintain a minimum amount of money in the checking or savings account.

Some checking accounts earn interest, others do not. Always ask.

A "bounced" check is one that you have written for more money than you have available in your account. All banks will charge you a fee if you have "bounced" a check (NSF, not sufficient funds) or if you overdraw.

Overdraw is when you debit an amount that exceeds the balance in your account. Some banks offer overdraw protection, and you can choose to have the bank allow or block overdraw payments. Discuss this with your banker when you open your account.

Savings Accounts

A savings account is useful if you have funds that you do not immediately need. You will earn interest on a savings account, but the amount varies from bank to bank and depends on what type of savings account you have opened.


ATM MACHINES
Most banks have Automated Teller Machines (ATM) that allow you to deposit, withdraw, or transfer funds without going into the bank. ATM machines are conveniently located in shopping malls, supermarkets, and even on campus. When you open an account with a bank that operates ATMs, you will receive a plastic service card. You will be given a Personal Identity Number (PIN) that identifies you as a bank customer. NEVER GIVE ANYONE
YOUR PIN NUMBER. Banks have begun to charge a service fee each time you use another bank's ATM. Again, ask about any charges for services rendered and read all materials carefully.


DEBIT CARD OR CHECKING CARD
When setting up your checking account, you should also ask your banker about the debit card, also known as a check card. This type of bank card allows you to pay for groceries and other items without writing a check or withdrawing cash from your account before going to the store; money is automatically transferred from your checking account to the store or restaurant. It's very easy! Important: Many debit cards have a daily limit. If you are looking to make a bigger purchase (over $500) - it is important to ask your bank about your limit. They can increase it for you.

You will find it safe and convenient to use your debit card from your home country bank. However, if your stay will be longer than a semester, it is more convenient and cheaper to open a bank account in the U.S. If you will be using your debit card while travelling to other U.S. states or outside of the country, it is recommended that you notify your bank of your intention to travel. Some banks may place a hold on accounts being used outside of their
usual location without notification, as these purchases may be suspected as fraudulent.

PAYING TUITION AND FEES

The Bursar's Office is in charge of billing students and collecting fees. There are several methods for paying your
tuition/fees.

Flywire is a good option for international students. Flywire lets you transfer your tuition payment directly from your bank account back home, in your country's currency, to UNO. Pay by Flywire

For more information about ways to pay, please visit: http://www.uno.edu/bursar or contact the Bursar's office
at (504-280-6489).

Money Management

Since you know how much your income and basic expenses are, pay all bills at the beginning of every month. You will then know exactly how much remains.

Keeping track of your expenses in various categories (food, books, utility bills, telephone bills, etc.) will help you identify where most of your money is being spent. Be especially aware of how much you spend on long-distance telephone calls.
Keep track of money taken out with your ATM card.
If you have cash in your pocket, your tendency may be to spend it more quickly. Use a debit/checking card.
If you plan to own a car, budget all expenses related to the car (gas, parking, insurance, regular maintenance, emergency repairs).
If you have a credit card, beware of over-spending. Remember you may pay 25% or more per year in interest for the unpaid balance on your account.
Credit card companies may call or send you information that you are eligible for their credit card. Read all of the information thoroughly before deciding on getting the card. Most companies have high annual fee charges.
Cooking meals at home is not only cheaper, but also healthier than eating out at fast food restaurants.
In the summer, electric bills can be very high because of the use of air conditioning. If your apartment has a window unit, turn it off during the day when you are not at home. If you have a central air unit and do not want to turn it off completely, turn up the temperature on the thermostat when you are not at home.
Keep an eye out for coupons in newspapers and local magazines.
Whenever you are planning to buy an expensive item, SHOP AROUND. Don't just buy at the first place you find it. Often, you can find what you are looking for at another store for a lower price.

Low Budget? No problem!

Buying used furniture can save you a lot of money. Here are some places to check:

Canal Furniture
4021 Tulane Avenue
(504) 482-1185

Bridge House Thrift Store
4243 Earhart Blvd
(504) 821-2479

The Habitat ReStore
2900 Elysian Fields Avenue
(504) 943-2240

Secondhand Clothing

Buying used clothing for you and your family can save a lot of money. Bonus: it's way better for the environment! You can find clothing at the Salvation Army Thrift Store, Goodwill, Rand Volunteers of America Thrift Stores, as well as Red White and Blue Thrift Store. You will
also find kitchen supplies, plates, and furniture etc. at these stores.
Goodwill
123 Robert E. Lee
504.286.1858

4329 Veterans Blvd.
(504) 309-5101

3400 Tulane Ave #1000
(504) 482-4173

Discount Stores

Shopping at recognized discount stores can also help you to save money. Some of these include:

Save-a-lot
Walmart
Target
Dollar General
Big Lots

Craigslist & Facebook Marketplace

You can also find low-priced, used goods on the website, Craigslist: https://neworleans.craigslist.org.

If using Craigslist, please USE CAUTION and BEWARE OF SCAMS. Deal locally, face-to-face. Do not extend payment to someone you have not met in person. Meet in public. Never give out personal information. For more safety tips, visit their website: https://www.craigslist.org/about/safety

Getting a Driver's License

How to get a License or State ID

Division of Motor Vehicles Website: http://expresslane.org or Office of Motor Vehicles: http://omv.dps.state.la.us
Office Hours are: 8am - 4:00pm Monday-Friday

2150 West Bank Expressway
Harvey, La 70058
(504) 361-6222

421 Williams Blvd.
Kenner, La 70062
(504) 463-5783

100 Veterans Blvd.
New Orleans, La 70124
(504) 483-1870

To see the guidelines for international students and scholars regarding a driver's license or an identification card, please go to https://www.dmv.org/lalouisiana/apply-license.php for the latest requirements.

A new license costs approximately $38.25. You will be required to submit a certificate of completion of local driver's education course, a written test, an eye test and an on-the-road driving test. To study for the test, you may download the entire driver's guide at the Office of Motor Vehicles website: https://www.dmv.org/la-louisiana/driverhandbook.php
Non-immigrants applying for a new driver's license must have at least 180 days remaining on their I-20, DS-2019, I94 or other immigration documents. Non-immigrants renewing a driver's license must have at least 30 days left on their I-20, DS-2019, I-94 or other immigration documents.
Non-immigrants who are not eligible to obtain a Social Security Card (F-2s and H-4s) may still get a driver's license. You must first get a letter from the Social Security Administration office which says that you are ineligible for the Social Security Number.
Be sure to schedule an appointment to visit the Office of Motor Vehicles in advance to avoid long wait times. The appointment tab is on the website at https://www.expresslane.org/.

Driving School

As of April 2015, if you have an international or out of country driver's license, you will still be required to take a 14- hour driver's education course (6 hours classroom and 8 hours behind the wheel). This is called the 14-hour PreLicensing Course. Students who have a driver's license from another US state or territory, or a German or Swiss driver's license are not required to take the course. The OMV has reciprocal agreements with these countries only. If you have any of these, you may go directly to the OMV or an auto title company and apply for a Louisiana driver's license. If not, you must take a driver's education course.

State ID

If you do not intend to drive while in Louisiana, you may wish to obtain a Louisiana ID for identification purposes. This is helpful so you do not need to carry your passport with you everywhere.
You will need to present the same documents (I-94, Social Security letter, I-20 or DS-2019) as you would for a driver's license. A Louisiana ID costs $21.00.

ALWAYS carry your driver's license, car registration card, and insurance card.

Laws to Know

Drinking Age

The drinking age throughout New Orleans, Louisiana, and the United States is twenty-one (21). It is unlawful for anyone under the age of 21 to purchase or consume alcohol. It is unlawful for anyone to sell or serve alcohol to a person under the age of 21. Many bars, restaurants and convenience stores will ask you to show them your Picture Identification (ID) when entering or attempting to purchase alcohol. Do not take offense; it is the law. Your UNO
student ID is not considered a legal form of personal identification. When going somewhere with the intent to consume alcohol, always carry your passport, driver's license or Louisiana ID card.

Drinking & Driving

Driving while under the influence of alcohol (also known as Driving Under the Influence (DUI) and Driving While Intoxicated (DWI)) is a serious offense. In the State of Louisiana, a person is considered legally intoxicated if his/her blood alcohol level is .08 percent (.02 for people under 21).

Penalties for FIRST-TIME offenders include:

Fine of $300 to $1000
10 days to 6 months in jail
Suspension of driver's license

Penalties for MULTIPLE OFFENSES include seizure of car, fine of $5000, and 30 years in jail!

The bottom line: do not drink and drive. Besides the possibility of fines and jail, you could cause your own or someone else's death.

Drugs

It goes without saying that you should never use or be in possession of a controlled substance. Drug offenders are punished very severely. You will go to jail.

In the United States Marijuana is legal in some states; however, it is still illegal at the federal level. It is important to understand that even if you are visiting a state where marijuana is legal, it is still a federal crime and can negatively impact your immigration status.

Driving without Insurance

Being uninsured is not just a bad idea...it is illegal! Louisiana law requires you to carry liability insurance. If you are stopped by a police officer and fail to show proof of insurance, your car will be taken away and you will be issued a ticket. A quick google search will give you several companies to check for insurance, including: Geico, AllState, State Farm, Liberty Mutual, The General. Here's an article from 2020 to get you started.

Child Care

It is illegal in the US to leave children under the age of 13 home alone without adult supervision. If you are caught leaving your children home without adult supervision, it is called Child Neglect and could cause the State to take custody of your children.

Immigration Implications

Criminal activity that has immigration consequences includes: conviction for or admission of a crime of moral turpitude (CMT); conviction for aggravated felony; conviction for drug-related offenses; drug-related activities not resulting in conviction (drug trafficking and drug/alcohol abuse); and Security-related offenses, whether or not resulting in conviction (espionage, sabotage or terrorist activity). Conviction for immigration purposes means a formal judgment of guilt entered by a court where either a judge or jury found the individual guilty; OR you enter a plea of guilty and the judge ordered some form of punishment.

Moral Turpitude refers to conduct which is inherently improper, vile, or depraved, and contrary to the accepted rules of morality. Anyone who is convicted of, admits committing, or attempts committing a so-called crime of moral turpitude (CMT) is inadmissible (cannot obtain a US Visa stamp) and deportable with certain exceptions. Examples of CMT include: Aggravated assault, spousal abuse, manslaughter, rape, arson, forgery, child abuse, bribery, fraud offenses, burglary and more. Examples of crimes that are not CMT include: simple assault or battery, misdemeanor DWI or DUI, urination in public, disorderly conduct, public drunkenness, most traffic violations, and consumption of alcohol by a minor.