August 2 - 3, 2018
The University of New Orleans' New Transfer Experience, or NTE, is an overnight retreat just for students who are transferring into the University. This leadership retreat is collaboratively planned through the Division of Student Affairs and the Office of Enrollment Services at Judson Retreat Center, located in St. Francisville, LA.
As a transfer student, you bring unique experiences that enrich the UNO community.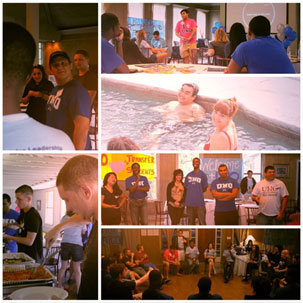 You have academic experience and while college isn't new to you, you are changing environments—and that can be both exciting and challenging! At this Leadership Retreat, just for transfer students, participants will connect with and begin to develop relationships with their classmates—some of which will hopefully grow into life-long friendships. During the New Transfer Experience, participants will learn about the wide range of involvement activities and resources that the university offers. Most importantly, transfer students will learn key strategies on how to enhance their leadership skills and successfully transition into the university. Furthermore, NTE will provide structured guidance and mentorship in an effort to help smooth students transfer into UNO community.

Whether you have joined us from a community college or another four-year institution, you live in the residence halls or away from campus, we are excited you are here and eager to help you settle into your new community. The New Transfer Experience is yet another way that the University of New Orleans will aid you in reaching your potential as a new privateer!
The New Transfer Experience recognizes that all students should have an equal opportunity to participate in these programs and the staff will work with students who may require special accommodations, including those students with concerns about their gender identity. If you require special accommodations and are comfortable sharing that information, please do so on your registration form. If you would like to have your questions answered or concerns addressed before completing the registration form, please contact Natalie Temple at ntemple@uno.edu or April Gremillion at aegremi@uno.edu to ask about accommodations you may need to attend the program.

Cost: $45
(Limited need-based fee waivers are available.)