July 28 - July 30, 2020
The camp is a three-day, two-night freshmen virtual leadership retreat collaboratively planned by the Office of Student Involvement & Leadership and the Learning Resource Center.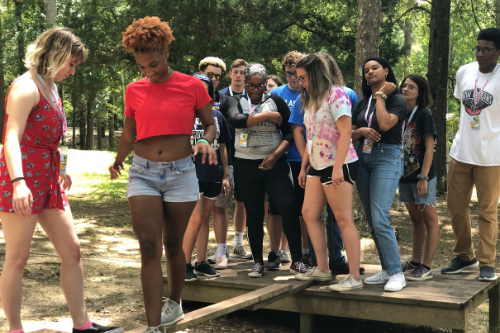 Registration for 2020 Privateer Camp has closed.
Reduced Virtual Fee: $25
Limited need-based fee waivers are available. Student must register for Privateer Camp to receive the waiver application.
Registered but unable to attend Privateer Camp? Contact us to cancel without penalty by July 24th at 4:30pm (CT).
COVID-19 Update
We wanted to connect with our campers face-to-face during Privateer Camp! However, due to the State's, City's, and University's guidelines we have chosen to host Privateer Camp virtually via zoom. The fee for Privateer Camp as been reduced to $25. View our virtual schedule here.
During this retreat, incoming students learn about the wide range of involvement activities and resources that the university offers. Most importantly, incoming students will learn key strategies on how to enhance their leadership skills and successfully transition into the college environment. This three-day retreat will be packed with ice breakers, team-building activities, leadership sessions focusing on UNO traditions, campus resources, leadership styles, diversity, cultural competency, and the college transition, all led by UNO student staff also known as "Krewe Leaders."
Privateer Camp recognizes that all students should have an equal opportunity to participate in these programs and the staff will work with students who may require special accommodations, including those students with concerns about their gender identity. If you require special accommodations and are comfortable sharing that information, please do so on your registration form. If you would like to have your questions answered or concerns addressed before completing the registration form, please contact sil@uno.edu to ask about accommodations you may need to attend the program.
Have Questions?
Student Involvement & Leadership
Email: sil@uno.edu
Phone: 504-280-6349
Sessions

Future Privateers attend fun and interactive sessions where they learn about the history of the University, tips on succeeding in college, and the New Orleans community. These workshops are developed and led by our Krewe Leaders.

Session Topics

• What I Want to Be When I Grow Up
• Transitioning to College
• UNO History and Traditions
• Diversity & Inclusion
• Financial Wellness


Throughout the day will be icebreakers, team-building activities, group discussions, Krewe Olympics, and fun! At night, there will be dance mixers, games, and much more!