Cardio and Weight Area
Located on the second floor of the Recreation & Fitness Center is the main fitness area.

Cardio Vascular Equipment
Televisions located in the cardiovascular area with cardio-theater (personal headphones required).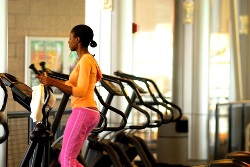 Precor: treadmills, upright and recumbent bikes, and ellipticals
Cybe Arc Trainer
Octane Fitness Xride
StairMaster stepmill
Concept 2 rowers
Jacobs Ladder
Weights
Variety of selectorized, free-weight, and plate-loaded equipment targeting all muscle groups.
Facility Guidelines
Proper Attire
Jeans/jean shorts or cut offs with metal clasps and belts are not allowed on any of the upholstered equipment. MUST wear closed toe athletic shoes. No boots, aqua shoes, crock-type shoes, socks, sandals, or bare feet are allowed for any reason. A shirt MUST be worn at all times.
Televisions, Personal Stereos and Headphones
Please do not change the TV stations. Personal stereos are allowed; including a phone. Personal headphones must be worn.
Towels
Workout towel recommended
Cell Phones
Cell phone usage is strictly PROHIBITED while using equipment
Water
ONLY bottled water is allowed
Gym Etiquette
30-minute time limit (including warm-up/cool down) if others are waiting for cardio equipment
Please allow others to utilize weight machine between sets ("work in")
Do Not let weights slam or drop weights

Clips
Safety clips are MANDATORY on all free weight bars at all times.
Racking Weights
Return free weight bars, plates, free weights, and all other equipment to proper locations after use
Hygiene
Gym wipes are available for your convenience
Spotters
Spotter recommended