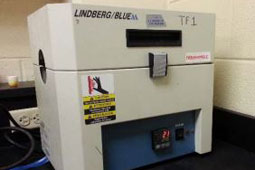 AMRI researchers have extensive experience in the synthesis of a variety of solid state and nanoscale materials. These include various ceramics, catalysts, etc. as well as nanoparticles, nanowires, and nanotubes. We have extensive furnace capabilities and can do reactions under various atmosphere at temperatures up to 1500 °C. We are also very well versed in various topochemical and nanomaterials synthetic methods.
Synthetic Capabilities
Various programmable box and tube furnaces allow for routine synthesis of a variety of materials.
Reactions can be carried out under inert, oxidizing and reducing atmospheres.
Temperatures up to 1500 °C routinely accessible.
Extensive experience in the fabrication of nanoparticles of a various materials.
User Rates
Rates will be based on an hourly or per sample basis and will be decided after consultation with the customer.
Consumables charged at cost.
Contact Us
Dr. John B. Wiley
Email: jwiley@uno.edu