Field Emission Scanning Electron Microscope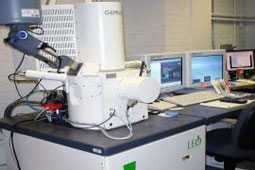 Our field emission scanning electron microscope (FESEM) is integrated with JC Nabity nanolithography system so as to readily perform ebeam nano-patterning.
Specifications and capabilities of FESEM(LEO 1530 VP)
Schottky thermal emitter with ultra-high resolution (1 nm at 20 kV, and 2.5 nm at 1 kV)
Annular In-Lens SE detector and lateral SE detector with patented GEMIN lens
Elements analysis by OXFORD EDS (Point, line, and area EDS analysis as well EDS mapping)
x/y/z axes motorized stage allowing up to 45° of tilt
JC Nabity e-beam nano-patterning system
Manipulation nano-scale objects and in-situ measurement by micro probes
User Rates
Rates will be based on an hourly or per sample basis and will be decided after consultation with the customer.
Internal rate: $40/hr.*
---
External rate: $70/hr.
---
Training: $50/hr.
---
Consumables charged at cost.
Contact Us
Dr. Weilie Zhou
Email: wzhou@uno.edu
Sample Data