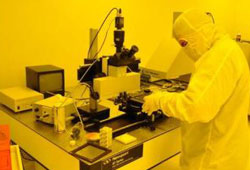 Cleanroom class 100 provides clean environment for photolithography processes and other experiments in which dust particles may affect quality of processed or measured samples. The air in the cleanroom is filtered several times before leaving the cleanroom so that there is less than 100 particles in a cubic meter. The quality of the air is constantly monitored by the particle monitoring system. The purity of the air in the vertical flow benches is one order of magnitude better. The cleanroom accommodates basic photolithography, assembly and surface characterization tools.
Specifications and capabilities of GTAT SPS
Class 100 cleanroom has recirculating air design.
MiniNet Model 210 Particle Monitoring system to monitor purity of air in the cleanroom.
Equipment available in the cleanroom:
Complete Photolithography System (Newport Inc.) from. for 3" and 4" OD Wafers consisting of the following:
Brewer Science Inc. Benchtop Spin Coater/Hotplate system model CEE-200-CB
AJA International Orion 8 ATC IM system for ion milling
Veeco Instruments Multiprobe Scanning Microscope including:
Kuilcke&Soffa Model 4500Digital Series Manual Wire Bonder
Four Terra Universal vertical flow benches
Several samples and chemical storage cabinets and class 100 furniture
User Rates
Rates will be based on an hourly or per sample basis and will be decided after consultation with the customer.
Hourly rates for the cleanroom
Assisted Use: $15/hr.*
---
Cleanroom training: $50/hr.
---
Self-Use: $10/hr.
---
Consumables charged at cost.
Contact Us
Dr. Leszek Malkinski
Email: lmalkins@uno.edu