Robert Mahon, Ph.D.
Contact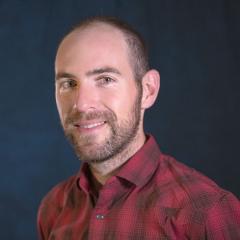 Education
Ph.D. Geology, University of Wyoming, U.S.A. (2017)
M.S. Geology, Idaho State University, U.S.A. (2012)
B.S. Geology, University of Montana, U.S.A. (2009)
About
Dr. Robert Mahon earned his B.S. in Geology from the University of Montana, his M.S. in Geology from Idaho State University and his Ph.D. in Geology from the University of Wyoming. Before arriving at UNO, Dr. Mahon was a National Center for Earth Surface Dynamics postdoctoral fellow at the University of Arkansas. Dr. Mahon is a sedimentologist and stratigrapher working primarily on sediment transport in modern and ancient rivers and deltas. He focuses on building quantitative relations between physical processes such as flow and sediment transport dynamics and the record of these processes left behind as stratigraphic architectures. This work involves using sediment experiments in flumes and delta tanks, fieldwork on the many riverine and deltaic environments of Louisiana, as well as some numerical modeling.
Research Interests
River and delta sediment transport
Stratigraphy
Fluvial geomorphology
Experimental sedimentology