Gianna M. Cothren, Ph.D., P.E.
Associate Professor, Interim Department Chair
Contact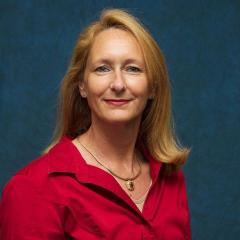 Education
Ph.D., Civil and Environmental Engineering, Louisiana State University (1996)
M.Sc., Engineering, University of New Orleans (1993)
B.Sc., Civil Engineering, University of New Orleans (1990)
About
Dr. Cothren earned B.S. (in Civil Engineering) and M.Sc. degrees from University of New Orleans and a Ph.D. in Civil & Environmental Engineering from Louisiana State University. Dr. Cothren's educational and professional background is in civil & environmental engineering with emphasis in areas of hydrology, estuary and wetland science, applications with geographic information systems. She has extensive experience in urban and rural environmental hydrology, GIS applications in water resources, physical, chemical, and biological functions in wetlands. She also has experience with SWMM, HSPF, and HMS for hydrologic modeling of stormwater and water quality. Dr. Cothren is actively involved with American Society of Civil Engineers (ASCE) and Society of American Military Engineers (SAME) serving as UNO chapter faculty advisor for both. She is active in journal publications and conference presentations throughout the United States.
Research Interests
Urban and rural stormwater/environmental hydrology
Hydrologic modelling
Geographic Information System (GIS) applications in water resources
Physical, chemical, and biological constructed wetland functions