Bhaskar Kura, Ph.D., P.E.
Contact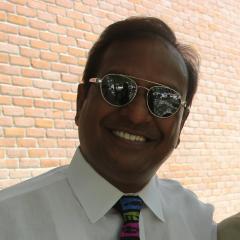 Education
Ph.D., Civil Engineering, Louisiana State University, USA
MS, Environmental Engineering, Banaras Hindu University, India
About
Bhaskar Kura earned his Ph.D. in Civil & Environmental Engineering from the Louisiana State University. He is a registered professional engineer in the State of Louisiana. He authored over 100 peer-reviewed technical articles and more than 40 project reports. He currently serves as Emeritus Professor of Civil & Environmental Engineering at the University of New Orleans (UNO). In the past, he held various academic and administrative positions at UNO which include: (a) Associate Dean of Engineering (Program Development), (b) Huntington Ingalls Endowed Professor, (c) Chairman of Civil & Environmental Engineering, and (d) Director of Maritime Environmental Research Center (MERIC). He has nearly 31 years of professional experience in Environmental Engineering, 3 years in consulting, 3 years in the industry, and 25 years with UNO (education, research, technology development, consulting, and expert witness).
His noteworthy honors and awards include, (1) Gordon "Nick" Mueller International Leadership Medallion, (2) member of the Governor Jindal's Louisiana Environmental Transition Advisory Council, (3) James M. Todd Technological Accomplishment Award (LES), and (4) UNO Alumni Association's Early Career Award for Excellence in Research. He is a member of several professional organizations, American Association of Civil Engineers (ASCE), Association of Environmental Engineering and Science Professors (AEESP), Air & Waste Management Association (A&WMA), and National Shipbuilding Research Program (NSRP).
Dr. Kura teaching interests include air quality monitoring, atmospheric dispersion modeling, air pollution control, and pollution prevention. His research focus includes industrial pollution prevention, integrated environmental management, clean technologies development, sustainability, and software development in environmental management and industrial hygiene.As the expert in the air quality management area, Dr. Kura provides consulting services in the area of emission quantification, air quality permits, air quality monitoring, atmospheric dispersion modeling, public/worker exposures to air contaminants, compliance with environmental regulations, and decision support systems.
Dr. Kura is actively engaged in various international air quality training/research programs. His recent noteworthy project, AQM3 (Air Quality Monitoring, Modeling, and Management) trained Brazilian engineers (37 in 2015 and 101 in 2016) to be air quality professionals under Brazil Scientific Mobility Program (BSMP) in a partnership with the Institute of International Education (IIE), New York. He is actively engaged in developing low-cost air quality monitoring strategies (instruments, communication, data management, analysis, and decision support).
Research Interests
Computer applications to solve and manage environmental/industrial hygiene problems
Air quality management – monitoring (ambient, source, and occupational), atmospheric dispersion modeling, control equipment
Environmental impact assessment and environmental management systems (EMS)
Industrial hygiene management
Waste minimization, pollution prevention, process optimization, and clean technologies evaluation