University of New Orleans alumnus Maurice Carlos Ruffin's book, "The Ones Who Don't Say They Love You," has been selected as the focus of One Book One New Orleans (OBONO)'s 2023 citywide reading and literacy campaign. The group selects one book every year for its campaign.
Ruffin, who earned a bachelor's degree in English and a Master of Fine Arts from the University's Creative Writing Workshop (CWW), has been touted as a rising literary star since before his debut novel "We Cast a Shadow," published in 2019.
"One Book One New Orleans does vital work for our community," Ruffin said. "I admire that the organization provides local literature to the community and fosters important discussion. Having my book be the 2023 selection is one of the great honors of my life, and I look forward to participating in the community discussion."
Ruffin attended UNO's Creative Writing Workshop from 2010 to 2013, where he worked closely with professors including IndieNext pick author Barb Johnson and New York Times bestselling author and CWW director, M.O. Walsh.
The CWW offers master's degrees in fiction, non-fiction, poetry, and playwriting. Its alumni boasts a number of successful authors in addition to Ruffin, including Elizabeth Brina, Pulitzer Prize winner Jericho Brown and Nicholas Mainieri.
Last year, the group selected a University of New Orleans Press publication, "I Feel to Believe" by journalist Jarvis DeBerry as the citywide read selection.
"The Ones Who Don't Say They Love You" is a collection of 19 short stories. Some are just over two pages; some are more than 40; all are set in New Orleans. Spanning centuries, from 1866 to the middle of the COVID-19 pandemic, the stories present a cast of characters unlike any readers have seen before.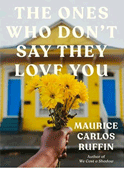 "These stories show us the beauty of this city, while at the same time not shying away from the fact that living here is sometimes very hard," said Megan Holt, OBONO's executive director.
OBONO urges everyone in New Orleans to read Ruffin's "The Ones Who Don't Say They Love You" with the goal of fostering a deeper sense of community through this shared reading experience. OBONO partners with many organizations to remove barriers that would prevent access to the book and hosts a series of events inspired by the book, each taking place either in a different neighborhood or online. The events are free and open to the public.
Programming for the 2023 literacy campaign kicks off at 6 p.m. on Thursday, Jan. 26, at Community Book Center, 2523 Bayou Road in New Orleans. Ruffin will read from the book and participate in a discussion afterwards with New Orleans poet Karisma Price.
Community Book Center will have the book available for purchase.