When the world renowned New Orleans Jazz and Heritage Festival was canceled in 2020, University of New Orleans alumna Beth Arroyo Utterback said she felt the void needed to be filled.
Utterback is the general manager of New Orleans' award-winning jazz and heritage radio station WWOZ and proudly carries the colloquial title "Guardian of the Groove," a title bestowed by the station upon those who play a significant role in preserving and enhancing the culture of New Orleans.
The festival, traditionally held at the Fair Grounds over two weekends in April and May, was canceled because of the coronavirus pandemic.
"We knew we had to do something," Utterback said.
That "something" turned out to be "Jazz Festing in Place" an eight-day broadcast event held the same days and hours as the originally scheduled Jazz Fest would have been held at the New Orleans Fair Grounds.
"We partnered with the New Orleans Jazz and Heritage Archives to draw on decades of recordings from Jazz Fest to put our own festival together—complete with (scheduling) cubes!" Utterback said.
The New Orleans Jazz and Heritage Foundation holds WWOZ's broadcast license and owns the festival.
Listeners of 90.7 FM and viewers of WWOZ's website could enjoy more than 100 archival Jazz Fest performances that included Fats Domino, Allen Toussaint, Irma Thomas, The Neville Brothers, Ella Fitzgerald and Stevie Wonder, Dr. John and many others.
And tune in they did. The station's social media views exploded and the exponential traffic growth on their site required an increase in the station's bandwidth to handle the traffic, Utterback said.
"Millions of people from around the world jazz fested in place with us," Utterback said.
The event was such a success in 2020 that the station decided to do it again in 2021.
Utterback's parents, Sid and Verna Arroyo, who were Jazz Fest regulars at the Fair Grounds, planted the seed for a virtual Jazz Fest decades ago, she said.
As the couple got older, they found it more difficult to navigate the fest, so they created their own experience, Utterback said.
"They decided they would literally Jazz Fest in place in their backyard and under their carport," Utterback said.
Her mother would cook jambalaya, gumbo and red beans and rice. Her dad had the carport fridge fully stocked with beer, soft drinks, wine and water for anyone who wanted to come by, she said.
"Dad would proudly open the fridge and say, 'We got OZ on the speakers, great food, cold beer, free parking and a bathroom with no line. Jazz Fest should take notes!'" Utterback said.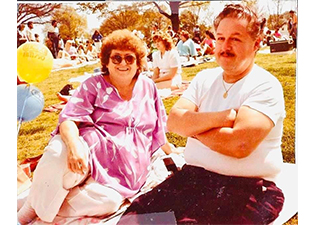 The couple also decorated the carport with their own original artwork and urged visitors to take some home, Utterback said.
"The idea for "Jazz Festing in Place" started with my parents in their Gentilly neighborhood carport in the early 90s," Utterback said. "Now Guardians of the Groove around the world are festing in place and creating their own memories!"
As the general manager, Utterback is the executive producer of WWOZ's special programming, including the highly acclaimed "Jazz Festing in Place" series, New Orleans Tricentennial Music Moments series, Jazz Fest at 50 and Groovapedia, the station's comprehensive media collection.
"It's a wonderful feeling to know that we are spreading so much happiness while fulfilling our mission to be the worldwide voice, archive and flag-bearer of New Orleans music," Utterback said. "We are a multi-platform, multimedia organization including radio, over the air and internet, video streams and social media platforms."
She leads the professional staff and more than 150 active volunteers to provide service to the listener-supported station's local and global fan base, which reaches millions of people from nearly 200 countries and territories.
"I love working with our incredible show hosts, staff and volunteers, as well as the awesome musicians and culture bearers of New Orleans," Utterback said. "I also love meeting and hearing from our fans—known as Ozillians—from all over the world."
Utterback graduated summa cum laude with a bachelor's degree in drama and communications from UNO in 1983. Her class was the first to hold commencement at the Lakefront Arena, Utterback said.
"My degree has allowed me to stay in the city I love in the field I love," Utterback said.
Utterback has worked in the New Orleans media her entire professional life, starting as an intern at WDSU-TV when she was 16. She spent 35 years at WYES-TV holding the positions of executive vice president and chief operating officer.
"I was the chief content officer and programmer there and served as executive producer for our local and national PBS programming," Utterback said.
Utterback was hired to lead WWOZ in 2017. When asked what attracted her to the position, Utterback's response is one word: Irma!
As in Grammy Award winner, Soul Queen of New Orleans singer, Irma Thomas.
"I met Irma in 1981 when I was 20 years old," Utterback said. "I worked on a WYES special with her and we've been friends ever since!"
Thomas called her and said she thought Utterback could make a difference at WWOZ, Utterback said.
"I met with the incredibly involved and supportive board of directors and I was sold," Utterback said. "It was a rare opportunity to lead an organization from New Orleans that truly has a daily worldwide impact."