University of New Orleans instructor Chioma Urama is the winner of the competitive national Georgia Poetry Prize for 2019. Urama, who teaches creative writing and English composition, earned the prize for her debut collection of poetry, "A Body of Water."
The University of Georgia Press established the national poetry prize in partnership with the Georgia Institute of Technology and the University of Georgia to celebrate excellence in poetry. The annual contest is opened to residents of North America.
The prize includes a $1,000 award and a publication contract with the University of Georgia Press.  Urama's book published on Feb. 15, 2021.
"This award is a great achievement that highlights the great artistic work that is coming out of UNO's English and foreign languages department," Urama said.
"A Body of Water" is a poetic exploration of ancestry in the American South, Urama said. The poems are the result of a conversation Urama opened with her ancestors, whose documented and oral histories have been fragmented by a history of enslavement.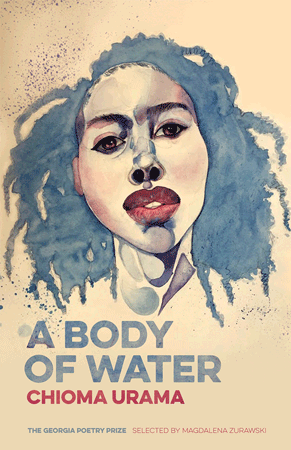 The 2019 judge, poet Magdalena Zurawski, described Urama's collection of poems as a "surprise and delight in their style and daring."
"The strength of the work is the communication that occurs between poems," Zurawski said. "A constellation slowly emerges where each poem becomes for the reader a different point on a map, a map that marks the distances, the proximities, between historical trauma and its intergenerational effects."
As the winner, Urama is invited to read excerpts from her work at Georgia Institute of Technology and the University of Georgia.