Jericho Brown recalled his days of leaving his downtown New Orleans office to navigate the I-10 East traffic toward the University of New Orleans. Brown spent much of his time navigating the political landscape as a speechwriter for then-Mayor Marc Morial before heading to UNO's Creative Writing Workshop.
 
"By the time I got there and sat down, it would be 5:59," Brown said with a laugh. "I would be just in time for my 6 o'clock class and so I was always glad that they offered those classes!"
The evening classes allowed Brown to learn more about poetry and keep his job, he said. It was at UNO that he found a love and appreciation for poetic form under the direction of poetry professors Kay Murphy and John Gery, Brown said.
One of the features included in his Pulitzer Prize winning book, "The Tradition," is a form he invented called the duplex, he said.
"When I was inventing that form, I was doing it having taken those classes with Kay Murphy with learning how form can work in poems," said Brown, who earned an MFA in creative writing from UNO in 2002. "So what I'm doing now still bears upon what I learned at UNO."
The courses at UNO also sparked another interest in Brown: teaching.
"Taking the classes at UNO is what really got me thinking more seriously about pedagogy and thinking about how I would run a class," Brown said.
"John (Gery) had workshops with poems where he had us looking at our own work. But, he always had us doing that in the context of the history of poetry in the United States. So, it's not just that we were looking at our poems, we were also looking at poems that were possible influences for revisions."
Brown, who holds a bachelor's degree from Dillard University in New Orleans, later earned a doctorate in literature and creative writing from the University of Houston. He lives in Atlanta and is an associate professor and the director of the Creative Writing Program at Emory University.
Now, Brown has earned a writer's pinnacle of recognition—a Pulitzer Prize. Brown received the prestigious honor in May for "The Tradition," his most recent poetry collection that was published in 2019 by Copper Canyon Press.
"I cried. I think I screamed," Brown said laughing. "It's funny, the screams were intermittent. Like I would scream; then I would make a sandwich and I would scream again. Every once in a while just yelps. Intermittent hollers!"
The 2020 Pulitzer in Poetry is awarded for a distinguished volume of original verse by an American author and carries a $15,000 prize.
The Pulitzer Prize Board described Brown's work as a "collection of masterful lyrics that combine delicacy with historical urgency in their loving evocation of bodies vulnerable to hostility and violence."
Brown has authored three books. His first book, "Please" (New Issues 2008), won the American Book Award.  Brown's second book, "The New Testament" (Copper Canyon 2014), won the Anisfield-Wolf Book Award. His third collection, "The Tradition," was a finalist for the National Book Award and the National Book Critics Circle Award.
In his classes at Emory, Brown encourages his students to "feel free to fail."
"My classroom is one, I hope it is one, where students make all kinds of mistakes and from those mistakes, learn what they want things to actually look like," Brown said. "I'm trying to get them to tell the truth. All good writing has to tell the truth."
The Tradition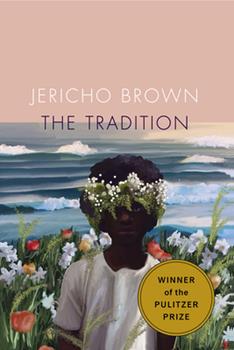 Brown takes the title of his book from a poem in the collection with the same name, "The Tradition."
Published in 2019 and heralded with the Pulitzer Prize on May 4, prior to the world knowing the name "George Floyd," the poem is both eerily prescient and sadly historical in its content.
Like much of the book, the poem "The Tradition," is a pastoral poem on its surface. It is about the environment, about the concerns about the natural world, Brown said.
"While that's at the base of the book, the book doesn't ignore social justices, social issues that are also going on in that world," Brown said.
The poem is at first about Black men tending to a garden of flowers. In the end, the last line is: John Crawford. Eric Garner. Mike Brown.
"In that moment, we find that this isn't just a world of flowers," Brown said. "It's also a world where unarmed Black people get murdered by police for doing absolutely nothing wrong.
"That's part of why I called the whole book 'The Tradition.' That poem is a sonnet. We always think of the sonnet as probably the most traditional of forms."
The title also alludes to the "normalization" of injustice, Brown said. It underlines how we live through cultural and societal assaults as if they are normal.
"It's a book about the fact that when someone defiles someone else's body we say in common parlance, 'She got raped.' And in that sentence nobody did the raping; somebody went out and got 'a rape,' as if you can buy one at Kroger," Brown said.
"Part of what the book is about is how, even at the level of sentences as simple as that, we buy into a kind of normalization of evil. I didn't want to buy into that anymore."
The book also is about love and joy, Brown said. He hopes readers come away with both perspectives.
"It's not just that I'm looking at this dark underside of life, I'm also looking at how we survive in spite of the dark underside," Brown said.
'A derivative of a derivative'
When he was 28 and publishing poems professionally, Brown decided to change his name from Nelson Demery III.
"I was the third and when I started having poems published it would say Nelson Demery III and it drove me crazy," said Brown, who grew up in Shreveport, La. "I wanted my poems to have a name on them that was only mine. I didn't want to share it with my dad or granddad. I wanted to reinvent myself."
Brown laughs now at what he described as his "romantic" reasoning for the name change.
"Everybody in my family, everybody in my church and growing up always called me Trey, which literally means three, you know what I mean? I was the third one of myself," Brown said. "I was like a derivative of a derivative for heaven's sakes! At least that's how I saw it.
"If I had become a poet later, maybe I would have been old enough to not think so romantically about it."
Despite his professional name change, Brown is proud of his family name and the strong bonds it represents. He credits his parents' hardline stance on education excellence for his success.
"I have a sense of discipline and a sense of belief in getting my work done," Brown said. "I get that from my daddy and mama."
The Pulitzer and Gwendolyn Brooks
Brown watched the Pulitzer ceremony as it streamed live, waiting to see if his name would be called. Atlanta residents, like many others in May, were under a stay-home order because of COVID-19.
"I was by myself in my room, sitting on my bed trying to make sure my computer worked; making sure I hadn't missed it," Brown said with a laugh. "When that lady said my name, woo! I was happy!"
Brown could not keep pace with the text, calls and social media congratulatory shout outs, so he just took time to bask in the accomplishment.
"I think I've talked to – or maybe texted or emailed – everyone I've ever known," said Brown.
At one point, his phone indicated he had more than 650 texts, he said.
"I gave up because I couldn't keep up!"
Asked what the Pulitzer Prize means to him—beyond the obvious universal prestige associated with its bestowal—Brown got a bit emotional as he talked about the late poet Gwendolyn Brooks.
 
This year marks the 70th anniversary of Brooks being awarded a Pulitzer Prize in poetry for her book, "Annie Allen," and becoming the first Black person to win a Pulitzer.
"So what it means for me is that I'm becoming a part of the Gwendolyn Brooks tradition of poetry writing, which is to say that I'm trying to make well-crafted and subversive work," Brown said. "Brooks has always been an idol for me; so having my name on any list near her name is very exciting for me and it makes me emotional."