Louisiana had the highest child fatality rate in the United States from 2014 to 2016, the three most recent years that complete federal data is available. While numerous factors contributed to that rate, University of New Orleans professor Randy Kearns' focus is on pediatric emergency care.
With the help of a federal grant, Kearns is leading a consortium of medical personnel and first responders in creating a model for improving pre-hospital emergency care for the state's youngest residents.
"It is imperative that gaps in pediatric care are identified and closed," Kearns said. "The focus is helping paramedics and EMTs build their skills to better care for pediatric patients."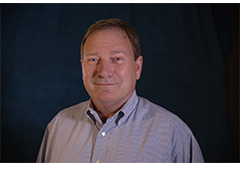 Kearns, a healthcare management professor with an extensive background in healthcare administration, public health, disaster and emergency management, is the project director on a four-year, $251,000 grant from the Health Resources and Services Administration (HRSA), an agency of the U.S. Department of Health and Human Services.
The University of New Orleans is one of only five recipients of a HRSA targeted initiative grant that will provide resources, support networks, education, training and personnel development that can save children's lives, Kearns said.
In 2018, there were 44,884 EMS records of pediatric encounters in Louisiana. Of the 44,884 pediatric encounters, 11,650 were 911 calls to a scene. Approximately 73% of EMS agencies in Louisiana self‐disclose a lack of training with pediatric‐specific equipment.
"Whenever an accident occurs, the tip of the spear is that someone dials 911 and the first person to be at the side of the patient is the paramedic," Kearns said. "So, we want to be sure that paramedics have been provided with the training and the equipment to put the patient in the position for the best outcome."
The project seeks to improve EMS readiness in part by creating a statewide consortium of Pediatric Emergency Care Coordinators (PECCs) to ensure consistency in care and response, said Kearns, who is a former paramedic.  A PECC would be stationed in all emergency management agencies and would help emergency responders build and maintain those specialized pediatric skills.
"It's putting people in a position so that they can do a better job of accurately providing the care and transporting the patient to the most appropriate destination for their injury," Kearns said.
Kearns is collaborating with children hospitals and EMS agencies in the state's three largest metro areas of New Orleans, Baton Rouge and Shreveport to compile data that will be used to design a statewide model.
Key collaborators on the project include the program's medical director, Dr. Toni Gross, who is chief of the emergency department at Children's Hospital New Orleans; Amanda Perry, who is the EMS for Children coordinator for the state of Louisiana and Gail Gibson, a nurse representing the Louisiana Department of Health.
"The purpose of the grant is to create a way that we can capture data, put in an improvement plan, monitor the process and then hopefully show improvement," Kearns said.