You might have noticed the evidence anecdotally: the empty bike racks at stores or seemingly more of your neighbors cycling or walking around the block. University of New Orleans Transportation Institute researcher Tara Tolford has data that shows bike riding and walking have increased dramatically during the COVID-19 pandemic, particularly during the stay-at-home order.
"Count data collected at a bunch of different locations continuously since early March show huge increases in biking and walking during COVID, which aligns with what basically everybody has been finding and seeing," Tolford said.
The data is part of UNO Transportation Institute's work on two linked projects that focuses on the collection and application of pedestrian and bicycle count data.  
One of the project is sponsored by the Louisiana Transportation Research Center and is aimed at initiating coordinated volume data collection for people walking and bicycling around the state, in order to more accurately assess long-range trends and develop demand models and safety evaluation tools, Tolford said.
The second project is sponsored by People for Bikes, which has partnered with the City of New Orleans to support implementation of the city's "Moving New Orleans Bikes" plan. UNOTI's role is to support evaluation by collecting data about changes in use of specific facilities where infrastructure is being upgraded, as well as to measure overall changes throughout the bikeway network.
A key component of both projects involved the installation of several new permanent, continuous automated count devices on key trails and bikeways in New Orleans, Tolford said.
The counters were installed during the first week of March, shortly before Gov. John Bel Edwards issued a stay-home order in an attempt to slow the spread of the novel coronavirus.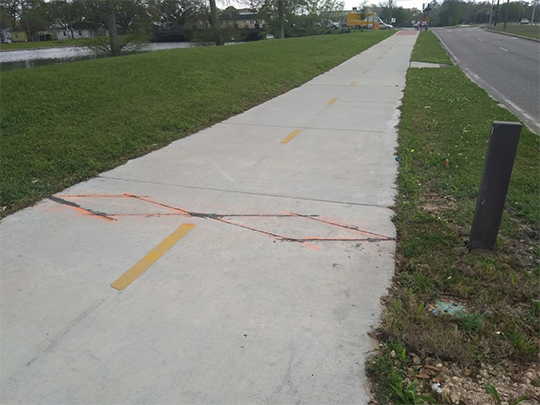 Several of the counters were placed at locations where previous counts had been collected, allowing researchers to compare current patterns to past observations, Tolford said. The sensors use infrared technology to count pedestrians, paired with inductive loops embedded in the trail or road surface or pneumatic tubes to count bicycles.
"What we found is that at all of the facilities monitored, marked increases in usage were observed during the stay-at-home order compared to pre-pandemic, except at one count location in the CBD (Baronne Street) where the impact of a sharp drop off in commuters is evident in reduced volumes," Tolford said.
Looking at the data through mid-May, when statewide restrictions began to ease, researchers found:
•    Walking and bicycling went up 263% on the Wisner Trail in mid-April compared to pre-pandemic.
•    Activity on all other trails measured also increased notably, including the Jeff Davis Trail (67% more bikes, 17% more pedestrians), Lafitte Greenway (20% more total users), Algiers Point Levee Trail (17% more total users), as did use of the bike lanes on Esplanade Avenue (up 27%).
•    The first few weeks showed the most rapid growth, but the highest days of use were during what would normally have been festival weekends. In many cases, researchers saw record high counts comparable to what they would expect if festivals were still happening.
•    Previous years of data show that this is not just a seasonal thing. While researchers say they tend to see higher rates of people walking and bicycling during the spring, they are still seeing much higher volume compared to the same period during previous years. For instance,  28% more users than the highest previous average for a similar period on Jeff Davis Trail, 13% higher on the Lafitte Greenway than the same period even, though in past years that included French Quarter Fest, which drives greenway traffic.
•    Previous year counts on Esplanade, Algiers Levee Trail and Wisner were all also substantially lower than what researchers saw this spring.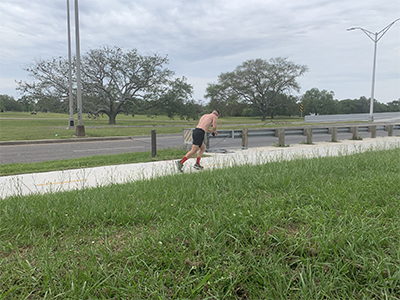 "In sum, we have observed an extraordinary increase in trail and bikeway use during the pandemic as people sought opportunities to get out of the house, safely," Tolford said. "This also aligns with what has been reported locally and nationwide about increased use of trails, parks, and bikeways, as well as widespread reports of bike shops selling out of bikes."
Tolford said it's also important to note that not everyone has equal access to great facilities.
"There are a lot of people who live in neighborhoods who don't have trails, and may not be able to safely go out with their families on foot or on bike to get exercise and all of the benefits to health and sanity that come along with being active," she said. "We know we have major health disparities in this city, and inequitable access to active transportation infrastructure is a part of that.
"We hope that this data will help show that it's more important than ever that we create space on our public streets for people to walk and bike."