Alumni achievement took center stage at the 2019 University of New Orleans Distinguished Alumni Gala at The National WWII Museum. On Thursday, 500 attendees packed the U.S. Freedom Pavilion: The Boeing Center, a dramatic venue for celebrating the University and the profound influence of its graduates.
Entergy Louisiana president and CEO Phillip May received the 2019 Homer L. Hitt Distinguished Alumni Award, while Roxanna Rodriguez-Torres, the National Security Council's director for Transnational Organized Crime, accepted the 2019 Homer Hitt Young Alumna of the Year Award. Additionally, the University's four academic colleges and Privateer Athletics honored their own distinguished alumni of the year.
Former Homer Hitt Alumnus of the Year Clancy DuBos served as the master of ceremonies and President John Nicklow provided the audience with a review of recent university highlights, including growth in enrollment and an expansion of partnerships.
"I hope that tonight's event will continue to build shared pride and reinforce the value of our beloved university," Nicklow said. "As I say to nearly every group I speak to: New Orleans doesn't work without the University of New Orleans."  
May recounted his time at UNO pursuing an MBA at night while he worked as an engineer at Entergy.
"I was struck by the quality and diversity of my peers, my fellow classmates at UNO," May said. "I was in class with other engineers, with attorneys, with medical professionals. We also had folks from banking and finance. It made for a rich learning environment."
As president and CEO, May is responsible for Entergy Louisiana's customer service, regulatory and public affairs, resource planning, economic development programs and charitable contributions, as well as its financial performance. He serves on the boards of the U.S. Chamber of Commerce; GNO, Inc.; the Louisiana Nature Conservancy; Teach for America of South Louisiana; City Year Baton Rouge and Second Harvest Food Bank.
"Over the course of my journey, many amazing people have helped me along the way," May said. "But it's my colleagues, my friends and my mentors from UNO that helped me to think differently. This university has helped me focus on my goals and helped mold me into the person I am today, and I am forever grateful."
Rodriguez-Torres was once a secondary education major at UNO but her plans changed when she left the University after her junior year to join the Army. After completing her service, she returned to UNO and found a new home within the College of General Studies (now interdisciplinary studies), which helped her tailor a new academic plan that aligned with her career path and future aspirations. Rodriguez-Torres also fondly recalled her time as a member of the dance team, the UNO Starlettes.
"I continue to carry those memories near and dear to my heart, so much so that I continue to wear my UNO class ring when I walk the halls of the White House," Rodriguez-Torres said.
 
Rodriguez-Torres advises and supports the president, senior national security advisers and cabinet officials on national security and policy issues related to transnational organized crime.
"I am so proud to have been a Starlette, extremely proud to be a Privateer, and I can't express how humbled and honored I am to win this award," she said.
In addition to May and Rodriguez-Torres, the following UNO alumni were also recognized:
•    College of Business Administration: Timothy J. Adams. Adams is the president and CEO of Systems Application & Technologies, Inc. (SA-TECH) in Maryland.
•    College of Liberal Arts, Education and Human Development: Jan Aronson. An accomplished painter, Aronson has exhibited her works both nationally and internationally over the past four and a half decades.
•    College of Engineering: Riley Parker. Parker is the discipline lead and technical authority for instrumentation and controls engineering for Shell in the Gulf of Mexico.
•    College of Sciences: Dr. Fred H. Rodriguez Jr. Dr. Rodriguez spent 35 years with the Department of Veterans Affairs, including serving as the director of pathology and laboratory medicine at the New Orleans VA Medical Center.
•    Athletics: Randy Bush. Bush has spent 13 seasons as the assistant to the general manager of the Chicago Cubs. He was the head baseball coach at the University of New Orleans from 2000-04, and he spent his entire 12-year major league baseball career playing for the Minnesota Twins.
May concluded his remarks by saying that his own UNO story was likely familiar to many others who graduated from the city's only public research university.
"I suspect my experience is not unique," he said. "I suspect that many of you in this room tonight could tell a story about a scrappy beginning and how this university helped mold you into who you are today. And frankly, I think that's what makes our alma mater so unique. Frankly, I think that's what makes the University of New Orleans so special."
---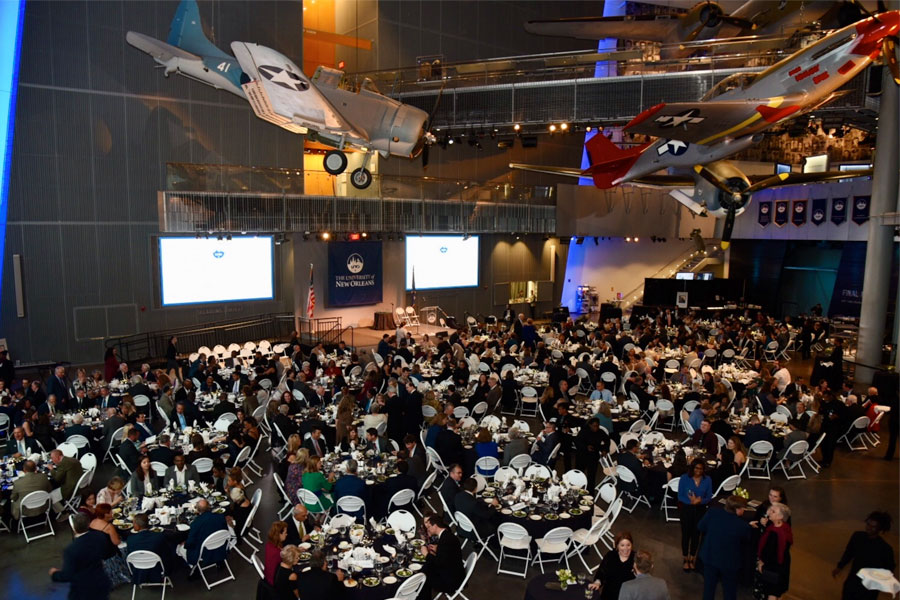 500 attendees packed The National WWII Museum's U.S. Freedom Pavilion: The Boeing Center for the Distinguished Alumni Gala.
---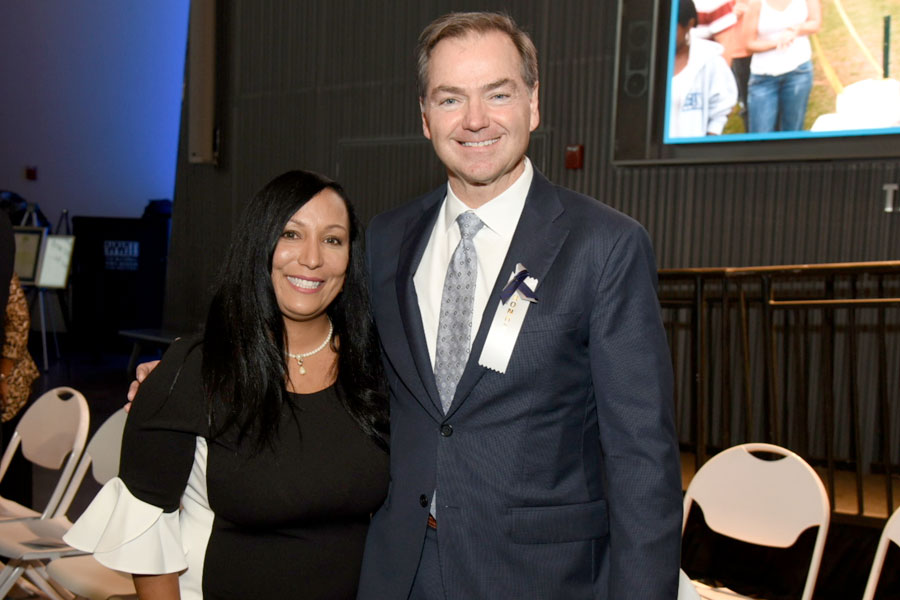 Phillip May was honored with the 2019 Homer L. Hitt Distinguished Alumni Award, while, Roxanna Rodriguez-Torres, accepted the 2019 Homer Hitt Young Alumna of the Year Award.
---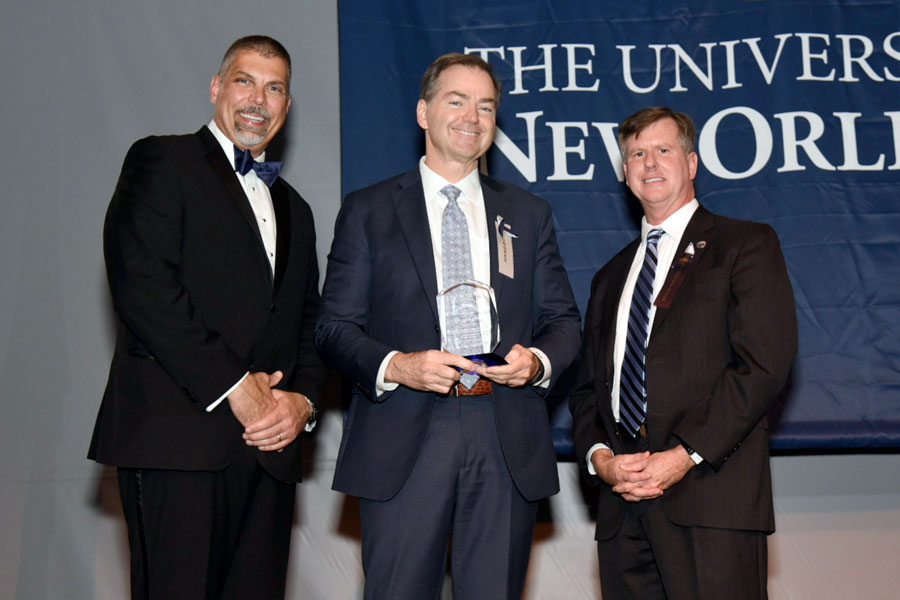 (L-R) President John Nicklow, Phillip May and Greg Sibley.
---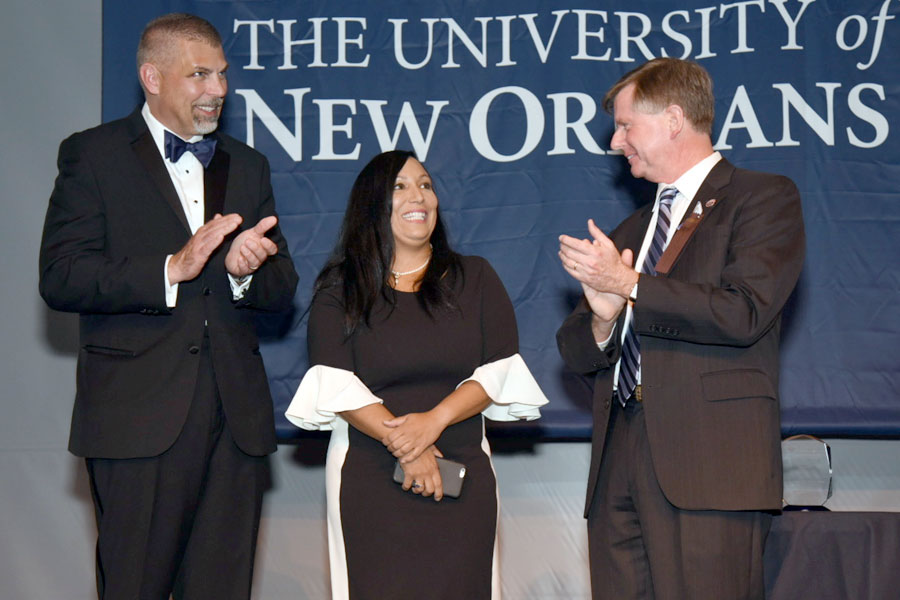 (L-R) President John Nicklow, Roxanna Rodriguez-Torres and Greg Sibley.