Anyone watching the confident stroll of television news anchor and author Sheba Turk or witnessing her rapid ascent in broadcasting could be forgiven for thinking her journey has been without struggles.
Turk, however, quickly disabused that notion in a candid address to the University of New Orleans spring graduating class of 2019 that encompassed her personal and financial missteps, her professional doubts as well as her successes over the last decade.
 "I transferred to the University of New Orleans 10 years ago and graduated two years later in 2011, and trust me there were no signs then that I would be your 2019 commencement speaker," Turk said. "Quite frankly because my life was a mess!"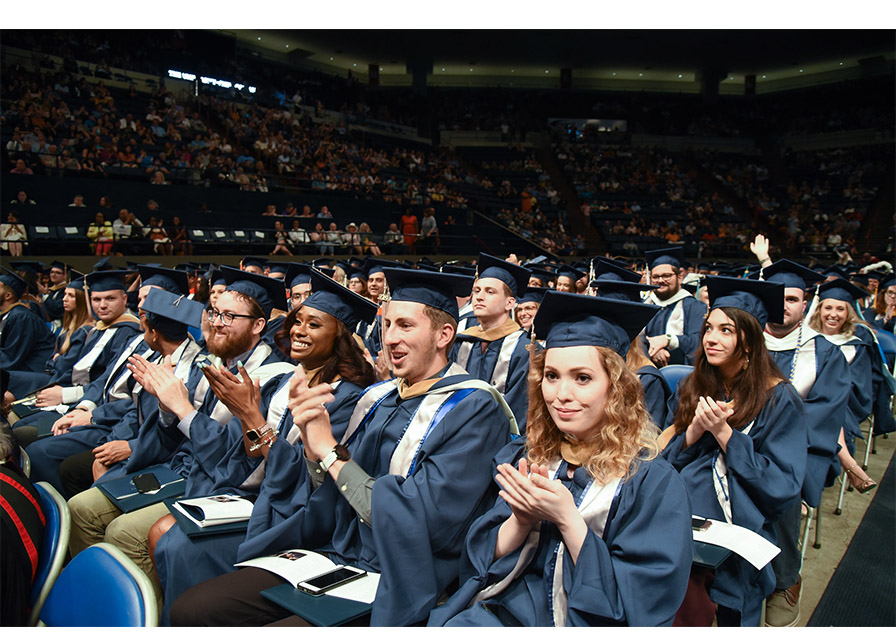 Turk served as the principal speaker at the University of New Orleans spring commencement on May 17. The 2019 graduating class hailed from 28 U.S. states and territories and 32 countries.
Also during the commencement, President John Nicklow awarded an honorary doctorate of humane letters to civic leader Ray Brandt, president and CEO of the Ray Brandt Automotive Group, and recognized members of 1969 graduating class on their 50th anniversary.
Turk is a co-anchor of WWL-TV's Eyewitness Morning News who worked her way up to traffic reporter, and then morning show reporter, before becoming host of the entertainment show "The 504." The show concluded its five-year run last year so that she could take on a new role as a morning show anchor.
She is also the author of the book "Off Air: My Journey to the Anchor Desk." The inspirational story lets readers in on how she worked her way from behind-the-scenes to the anchor desk in the span of about two years, pushing through financial challenges and self-doubt.
Turk, who earned a bachelor's degree in English, shared how she had to move back home with her parents after transferring from New York University where she had accumulated $24,000 in debt and changed majors "more than a million times."
"I realize now that there's power in what you think and how you think," Turk told the graduates "When I decided to move forward anyway, even though things weren't perfect, things started to really happen for me."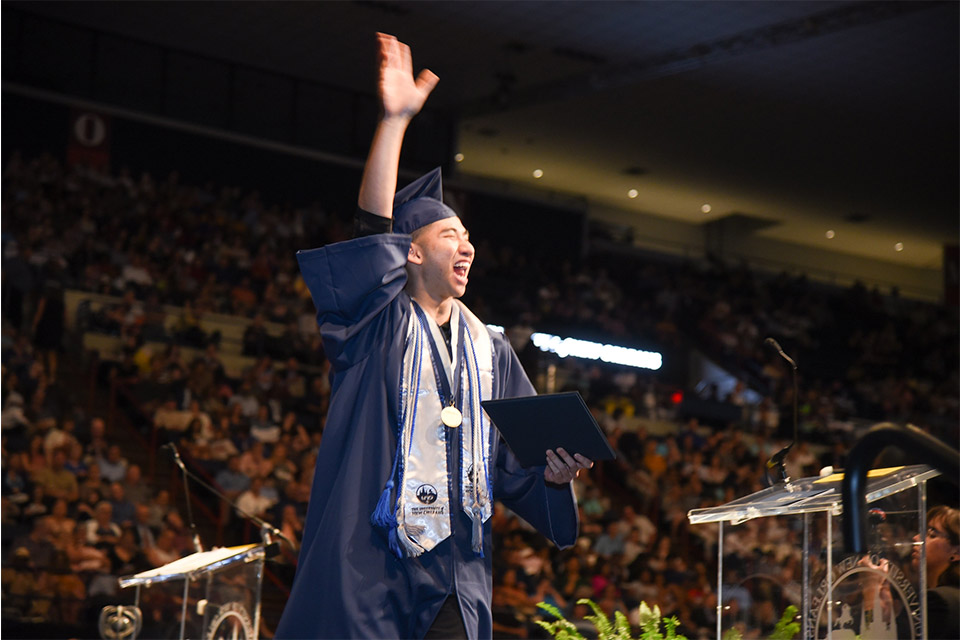 For most of her life, Turk said she wanted to be a veterinarian, and so immersed herself in pre-med classes at NYU.
"I would take the class on monkeys and decided I would be a biological anthropologist or a couple days I wanted to be a dolphin trainer," Turk said. "I was all over the place and it was because I was ignoring what I really wanted to do."
She loved to write, Turk said, but resisted that attraction because her family didn't have a "ton of money." She was looking for a major that would lead to a job after college, Turk said.
"I thought I needed a career that came with a check and writing wasn't going to get it," she said. "One day I got sick of all of my pre-med classes and decided to drop them all."
She enrolled in creative writing classes and took a journalism class on a whim. She became hooked on news writing, and decided on a career as a print journalist. She had completed the first semester of her sophomore year at $50,000-a-year NYU when financial reality hit hard.
She flew home for Christmas break, but didn't have money to return to New York, Turk said.
"I literally didn't have the money to fly back," she said. "I owed NYU $24,000 in tuition that I either had to pay to go back to school or for them to release my transcripts so that I could finish school. When I think about that time, it was really a low point for me."
Turk, who described herself as the "overdraft queen," said she never gave up hope that she would return to college and graduate despite the lingering debt.  
She returned to New Orleans to live with her parents and enrolled at UNO after her mother somehow convinced NYU to release her transcripts, she said, with the promise of repayment.
"When I look back on my journey, there are so many moments that I once wished didn't happen … I wished that all the bad moments didn't exist," Turk told the graduates. "Then I realized that everything that I thought was throwing me off track was actually putting me exactly where I needed to be. So trust your journey."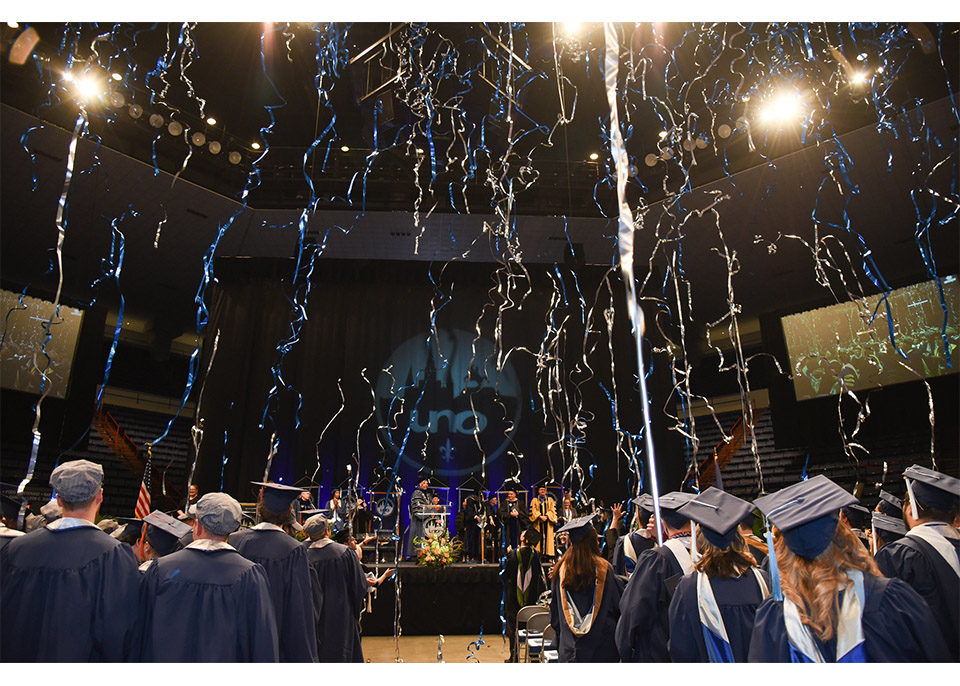 At UNO Turk enrolled in a journalism class taught by Kim Bondy, who had been a vice president at CNN.
"We bonded because I couldn't afford the book the first day of class, and so I had to go up and talk to her," Turk said laughing. "We became close friends and she became my mentor."
Bondy later introduced Turk to CNN news anchor Soledad O'Brien, who also became a mentor through O'Brien's PowHERful Foundation. When Turk ran into financial difficulties again during her senior year at UNO, O'Brien's Foundation cleared the college debt.
"I wondered why she helped me," Turk said. "One day she told me it was because you were always positive and smiling even when things were chaotic.
"So, I would never know what my life would be without Kim and Soledad, but I do know that my positivity attracted them into my life. Sometimes you have fight to be positive, because it never gets easy."
Joseph Pettus of Metairie can relate to fighting for a dream. Pettus, who's married with children, juggled two jobs while pursuing his degree in electrical engineering at UNO.  
As he waited for Friday's commencement ceremony to start, Pettus laughed and posed for pictures with his fellow engineering classmates. The last four years were difficult, he said, but well worth "this moment."
"I graduated high school like 15 years before I started coming here. I was like, 'Man, I'm not going to college; it's not for me," said Pettus, who did residential and commercial electrical work. "I was working with engineers and they were like 'Man you got the brains, you can run the crew. You should go for engineering.'"
After mulling the idea over for two years, Pettus enrolled.
"It's been a struggle, but it worked out great," said Pettus, who said he has been offered a full-time position with Entergy. "I'm super excited."
While Pettus' excitement was displayed with frequent smiles as he clutched his blue and white stripped engineer's cap, the joyous occasion for other students was marked on mortarboards decorated with glittering letters, flowers, strings, balls or memorable quotes that help push them through to graduation.
"It always seems impossible until it's done," biology student Pier Taylor Wells wrote on her cap.
"ME PUSE LAS PILAS," was written in yellow letters on a bed of blue glitter that decorated biology major Astrid Martinez's mortarboard.
"It's a corny saying that means I put on my batteries," Martinez said laughing. "It means that we worked hard and we actually did what we needed to do."
And as the graduates prepared for the next chapter of their lives, Turk urged them to remember that life happens in seasons and that they shouldn't wait for things to be perfect in order to make positive moves.
"On those bad days I want you guys to remember to move forward anyway because if I had waited for things to be perfect, I would still be trying to save that $24,000 to graduate from college," Turk said. "Make sure you force yourselves to be uncomfortable because it is the only way you will grow."