The best professional news Mitchell Ervin ever received came during the worst haircut of his life. He was seated in a barber's chair on August 27, 2015, when his phone rang. It was Mike Bantom, the vice president of referee operations for the NBA.
"Mitchell," Bantom said, "We are going to extend an invitation to you to be on the NBA referee staff."
The last syllable had barely escaped Bantom's mouth when Ervin leaped from the barber's chair. "The barber is like, 'What are you doing?' I remember the clippers went zeet! Kind of made a mark in my hair. I ran out of the barbershop because I could not really hear," Ervin said.
Ervin asked Bantom, who was now laughing, to repeat himself. "We're going to offer you a position to be an NBA referee," Bantom said.
Ervin was delirious. "I was like, 'No way! You've got to be kidding me. Are you serious? Is this really Mike Bantom?'"
Bantom, still laughing, assured him that he was who he said he was. He told Ervin that the offer was contingent upon him passing a background check.
"I said, 'Sir, with all due respect, I will pass this background check with flying colors. My background is so squeaky clean, I can run for political office,'" Ervin said.  
Ervin walked back into the barbershop with an uneven haircut, grinning and trembling with excitement. He'd just been invited to join the most elite group of basketball referees in the world, punctuating a decade-long odyssey that began with the University of New Orleans graduate looking for a way to stay connected to the game he loved.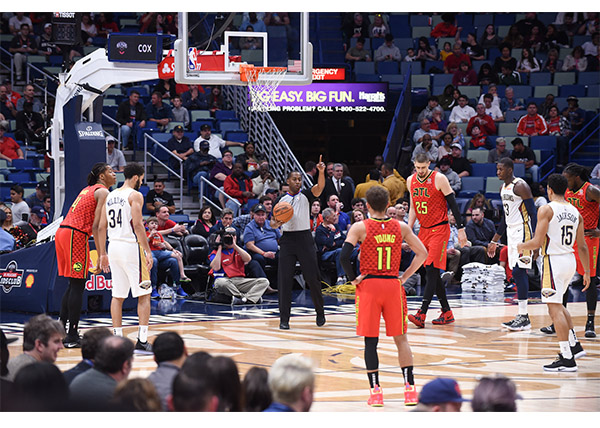 Following the bouncing ball
Ervin grew up in the 9th Ward of New Orleans and was an All-District guard on the Eleanor McMain high school basketball team. He spent much of his youth traversing the city's playgrounds, housing developments and high school gyms, looking for a game with his friends.
"Wherever a basketball was bouncing, we would go there and play," Ervin said.
Ervin was a good enough player to draw scholarship offers from two out-of-town colleges but both of those schools had coaching changes and the offers were subsequently withdrawn. When he was weighing his options, Ervin's mother was diagnosed with breast cancer, which cemented his decision to stay at home and enroll at the University of New Orleans.  
"I was able to be there with her for her last couple of years on this earth, so that was a blessing in disguise," he said.
During his freshman year, Ervin was a walk-on for the Privateers basketball team under head coach Joey Stiebing. Juggling the demands of being a student-athlete was challenging, Ervin said, and he decided to prioritize his academic pursuits by departing the team after one year.
After contemplating careers in both physical therapy and law, Ervin settled on a degree program in human performance and health promotion within the College of Education, graduating with a bachelor's degree in 2002.
"My time at UNO was really good," Ervin said. "I think UNO represents a real-world environment, as far as demographics and diversity. It was definitely a school that did not baby you at all. What you put in at UNO is what you get out. You really had to work hard to earn good grades there."
During college, he completed internships with the New Orleans Saints, the Greater New Orleans Sports Foundation and the Amateur Athletic Union (AAU) of Louisiana. Following graduation, he remained in New Orleans, working for a Los Angeles-based sports agent and running various AAU basketball tournaments.
During those tournaments, he frequently encountered Bobby Bissant, a dean of local referees, whose nephew was an NBA referee. Every time they saw each other, Bissant talked to Ervin about the profession. At one particular tournament in Mandeville, Bissant cornered him again.
"He started talking to me about the amount of money that NBA referees make," Ervin said. "He was talking about six figures. And, I was like, 'Really? Refereeing basketball?'"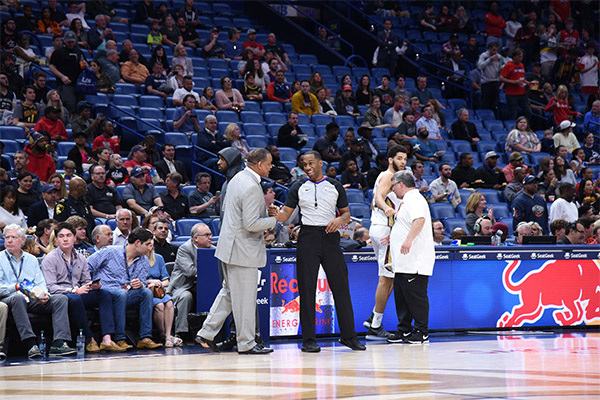 A new hoop dream
Fatigued by Bissant's sales pitch, Ervin told him that he would try it. Bissant arranged for Ervin to referee a team camp at Tulane University. He showed up early on a Saturday, got a shirt and a whistle, and officiated the first basketball game in his life.  
"At the time, I was playing in a couple of local men's leagues," Ervin said. "But that experience made me realize how much I missed being out on the floor. My adrenaline was pumping. I was drawn to it. And my competitive nature kicked in. I wanted to get every call right."
Ervin was hooked. He started refereeing high school games, recreational league games—any game he could find, following those same teenage instincts, going wherever a basketball was bouncing. He attended his first referee camp in Hattiesburg, Miss., where 80 aspiring officials worked games, hoping to get noticed.
Then Hurricane Katrina struck. Ervin and his sister evacuated to Houston.
"It was really like starting over," Ervin said. "That was a really, really tough time."
He needed a steady source of income so he worked a few different jobs, but none was compatible with a referee's schedule. He didn't officiate basketball for an entire year in Houston. In the summer of 2006, he attended a referee camp in Houston, and some of the local pros helped him find high school games to work. He started attending every referee camp possible.
"I was back to being that gym rat again, but this time it was in Houston."
His doggedness began to pay off. He progressed from working high school to some small college games. He attended two prestigious camps, run by NBA referees, which increased his visibility among the national referee community and exposed him to his future mentors. After those camps, he graduated to NCAA Division I competition, joining crews in the Southland Conference and Conference USA.
Ervin became obsessed with self-improvement. He scoured video replays of his games, evaluating his own performance. He emailed and texted current NBA officials, asking for advice and feedback.
He was invited to try out to become a referee in the NBA Development League, formerly known as the D-League, now branded the G-League. He thought he performed well but did not make the cut. He returned to the D-League camp the following year, more aggressive and confident.
This time, he was selected.    
   
"I wanted to take advantage of the opportunity," Ervin said. "I knew there were a lot of guys who wanted to be in my shoes. I promised myself that I would not waste the opportunity."
He would never realize his boyhood dream of playing in the NBA. But this was his chance to get to the NBA.  
He spent four years refereeing in the NBA's minor league before receiving that call in the barber chair from Mike Bantom.
Fittingly, Ervin's first game as a full-time NBA referee was in his hometown on Oct. 31, 2015 when the Golden State Warriors beat the New Orleans Pelicans. It wasn't just a memorable night for Ervin's friends and family. Warriors star Stephen Curry scored 53 points.
Life on the road
Ervin, 39, is in his fourth season as an NBA official. During the season, he keeps a dizzying travel schedule that typically involves working four to five games a week, often in as many cities. Like professional players, referees find order and comfort in their routine.
Referees are required to arrive in the city of their next game the night before the game. The members of the three-person crew usually go out to dinner to catch up and talk about their craft. The next day, they have a mandatory morning meeting at their hotel to get them focused on that night's game. They discuss positioning on the court, rules, player matchups and areas of emphasis from the league. After lunch, some officials will take a nap, while others exercise. Ervin usually takes some of this time to review video of recent games.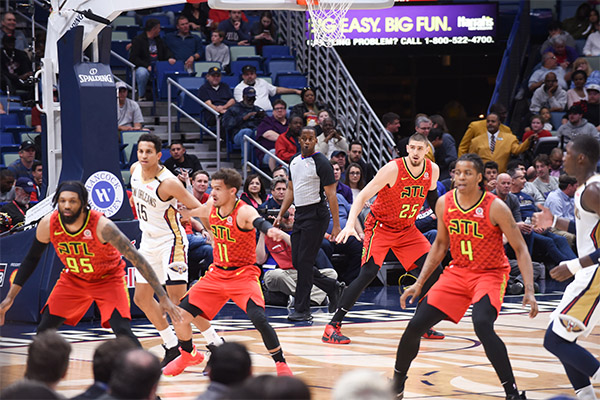 "I think there's a common misconception that NBA referees show up, work the game, go home and just move on to the next game," Ervin said. "I don't think people realize how much we really care for the game of basketball, how much we care about being professionals and how much it bothers us when we get calls wrong."
The referees have to be at the arena at least 90 minutes before tipoff. They ride together to the arena, get stretched by physical therapists, check in with the replay official at the NBA Replay Center in Secaucus, NJ and go over any last-minute discussion points. At halftime, they even review video in the locker room of the first half to see if they missed anything or need to make adjustments. There is no time for complacency.  
While Ervin has reached the summit of his profession, he maintains the same resolve to improve that brought him to this point. And it's showing. He was chosen as an alternate for the NBA Playoffs this year. He hopes to work the playoffs in future years and his ultimate goal is to be an NBA Finals referee.
He is quick to add, "In this business, consistent growth and progression are key."
Ervin lives in New Orleans during the season but maintains his residence in Houston during the offseason. His chief offseason priority is spending time with his wife, Dinesha, and their sons, Chandlor and Sean. Family time is a scarce commodity for him from October through April.
"My family sacrifices so much during the season to actually allow me to do something I love to do for a living," he said.   
Ervin is also well acquainted with sacrifice. For years, he refereed games in random gyms with low pay and no glamour, determined to improve and rise through the ranks. In many ways, he is still driven by the same youthful passion that he never outgrew.
"I'm trying to make the game better. Trying to get the respect of my peers, the coaches and players," Ervin said regarding his motivation. "It's the love of the game, ultimately."
Editor's note: If you know a UNO grad who is doing interesting things, send an email to pr@uno.edu with the subject line "Alumni Spotlight."