As a youngster, Charles O'Connor was fascinated by the attraction between two bar magnets that would cause one to move, even though they were not touching.
"I just always thought that was really neat," O'Connor said.
That early interest never waned. It prompted O'Connor to earn a doctorate in chemistry and to pursue a career at the University of New Orleans that spanned more than three decades researching and teaching chemistry.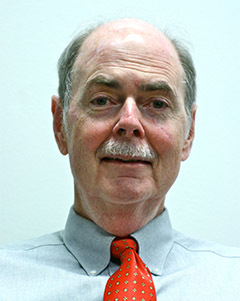 His assignment, when he joined the UNO faculty in 1979, was to teach and develop research programs in inorganic, solid-state and materials chemistry.
"I was always intrigued by magnetism and that's generally the area I ended up doing my work in, magnetic properties of materials," said O'Connor, who retired in 2012.
Now, O'Connor is manifesting his fondness for chemistry in another way: The creation of an endowment fund.
A $60,000 donation from O'Connor and his wife, Sally E. O'Connor, will help establish an endowed professorship in chemistry. The University will pursue a $40,000 match from the Louisiana Board of Regents.
O'Connor, who retired following a 35-year career at the University, describes the endowment as his way of giving back.
"I spent my whole career there," said O'Connor. "I just thought I could give something back to the chemistry department and help them recruit faculty."
That career included being the founding director of the Advanced Material Research Institute at UNO, which was developed to meet the research needs of the University in the area of materials science. The institute has established a research consortium that includes academic, government, and industrial participants and their research laboratories.
During his tenure at UNO, O'Connor received more than $50 million in outside funding for research, including a five-year grant from the Defense Advanced Research Projects Agency for $8.2 million to conduct research on nanophase magnetic particles for advanced materials.
"A lot of that had to do with trying to make magnetic particles smaller and able to hold the magnetism to try and improve the density of data storage," O'Connor said.
O'Connor also developed an outreach summer research program at UNO for high-school students, high-school teachers and underrepresented minority undergraduates, and directed an effort at UNO to help develop a doctoral program in advanced materials and nanoscience as a collaborative program between Louisiana State University, the University of New Orleans and Southern University Baton Rouge.
During his tenure at UNO, O'Connor directed the Ph.D and M.S. thesis research of more than a dozen graduate students, and the research activities of more than 40 post-doctoral students. Results of his research have been reported in more than 400 peer-reviewed publications in the scientific literature and more than 250 presentations at scientific conferences and symposia.  
His research work at the University bore applications for the data storage industry and miniaturizations of electric devices and sensors, among other things.
O'Connor was a world-renowned and respected chemist, said Steven Johnson, dean of the College of Sciences and chairman of AMRI's campus advisory board.
Johnson credits O'Connor for developing an internationally recognized materials research institute and for recruiting "fabulous" faculty members to UNO whom he also mentored.
"I would say that his donation is a testament to his generosity and his willingness to help faculty," Johnson said.