Tarani Duncan, a 2014 planning and urban studies graduate, helps people move efficiently from point A to point B. Her strategic mobility skills—developed as a student at the University of New Orleans—helped her create a software program that convinced ride-share giant Uber to purchase a bike company with plans to invest $1 billion in the micromobility industry.
"It's humbling to be a part of transportation history in this way; we made a software-based car-centric company excited about bikes," said Duncan, whose focus at the University of New Orleans was transportation and geographic information systems. "It makes business sense, but dang, it's also a little subversive feeling!"
Duncan, who grew up in Maryville, Tenn., "in the foothills of the Smoky Mountains," had planned to study hotel, restaurant and tourism administration at the University of New Orleans. However, during her second semester she took a class that focused on the hospitality industry's relationship to urban planning.
"It was a complete paradigm shift for me," Duncan said. "I started reading books by (planning and urban studies professor) David Gladstone, and my mind was constantly blown. I felt very connected to and passionate about the intersection of hospitality and urban planning. I wanted to dig in deeper by pivoting into studying accessibility and transportation, as well as land use and mapping tools."
Micromobility in transportation terms refers to the use of smaller vehicles, such as bikes or scooters, as alternatives modes for traveling, particularly for shorter distances.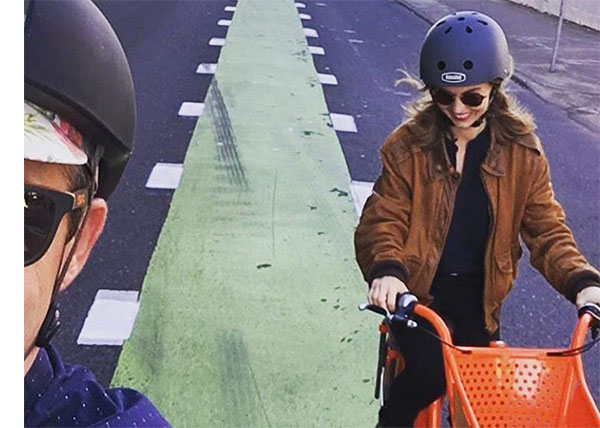 In recent years, there has been a groundswell of support for the micromobility industry as some see it as a way to reduce carbon emissions using smaller vehicles that are shared around a community.  
Leaders in the micromobility movement, such as business analyst Horace Dediu, predicts the "unbundling" of cars in favor of smaller vehicles, Duncan said. It is similar to how laptop computers and smart phones have largely "unbundled" society from desktop computers, she said.
"I'm grateful to have been a part of a large community of people who recognized the car is not the right tool for most trips taken; 60 percent of all trips are less than five miles," Duncan said. "At the end of the day, we have a very strong hypothesis at the root of this movement, which is the car is an over-engineered tool for short trips."
Logistics, however, are a major sticking point. One hurdle is how to efficiently share the transport vehicle, particularly during peak times.
Duncan, while working for a bike-sharing company called JUMP bikes in Portland, Ore., developed a mapping software program that enabled her company to nail the demand management issue. Duncan said she was confident her company's model was working when she saw trips per bike increase 334 percent over the national average and stay there.
"Making sure a bike is in the right location at the right time is a critical function for operators, as folks are going to choose the most convenient option for them," Duncan said. "I was fortunate to lead the team that created the software to ensure bikes are located where people are going to use them. It meant generating the metrics we needed to prove out our business model ahead of the Uber acquisition."
Micromobility has been around for years, but many communities, including New Orleans, are only recently starting to embrace the idea and create the necessary infrastructures, such as dedicated bike lanes or sponsored share programs.
Duncan, who was profiled by Forbes magazine for her strategic software work at JUMP, currently splits her time between Washington, D.C. and San Francisco, where she is the product manager of logistics at Mapbox, a provider of online custom maps.
"We're a platform company that empowers companies to use our code to do amazing things," Duncan said. Some examples are decreasing the overall expense of last-mile delivery by increasing efficiencies, dispatching first responders during natural disasters, finding friends on SnapChat using SnapMap, or generating a turn-by-turn navigation for on-demand drivers.
"I'm incredibly grateful for my education at UNO, particularly for GIS class with Lynn Dupont and Clare Brown," Duncan said. "It paved the way for me to find work at one of the largest and most innovative mapping companies in the world, focusing on improving access to mobility and to increase efficiencies when moving people and goods from point A to point B.
"It's such a direct connection to what I learned while at school at UNO. I feel very fortunate."
Her advice to students: Exist on your own timeline.
"Trust yourself. Believe in yourself," Duncan said. "People believe what you tell them about who you are, so always speak kindly of yourself. No one rewards self-deprecation; they just take your word for it."