On Feb. 20, the University of New Orleans celebrated the value of engineering studies with a daylong event for area middle and high school students. In honor of National Engineers Week, about 600 students from several parishes in the metro area visited campus to enjoy dozens of interactive exhibits that included an underwater remote-operated vehicle, table-top robots, a hydraulic can crusher, a hydraulic operated robot gripper, a laser pattern generator, a laser musical harp, a NASA observatory and star dome, aluminum foil boats, paper bridge building, traffic light technology, a magnetic projectile target gallery, a virtual reality experience and new emerging computer systems and software.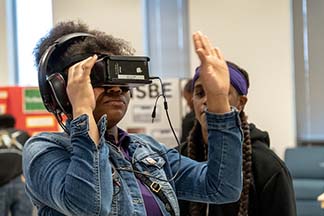 Students were also treated to a screening of "Dream Big: Engineering Our World," a feature-length film narrated by Jeff Bridges. Produced in partnership with the American Society of Civil Engineers, it is a first-of-its-kind film that explores the human ingenuity behind engineering marvels large and small, and, producers say, promises to "transform how we think about engineering."
The University of New Orleans offers the only civil, electrical, mechanical and naval architecture and marine engineering programs in the metro area, making it an ideal host for such an event, said UNO President John Nicklow.
"As an engineer myself, I am always eager to celebrate the value of the engineering discipline," Nicklow said. "As President of a public research university, I am delighted that our institution plays such an important role in developing the next generation of engineers. The field offers high quality job opportunities that are expected to continue to grow. If we are going to grow as a nation, it is important that the next generation understands those opportunities and capitalizes on them."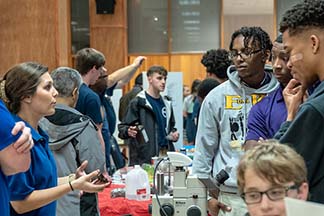 Leading visitors through the exhibits and activities were faculty and students from the College of Engineering as well as representatives from student organizations and campus chapters of professional engineering groups, including the Society of Women Engineers, the National Society of Black Engineers, the Society of Hispanic Professional Engineers, the American Society of Mechanical Engineers, the Institute of Electrical and Electronics Engineers, the Society of Naval  Architects and Marine Engineers, the American Society of Civil Engineers, the American Concrete Institute and the UNO Robotics Club.
Industry partners in attendance included representatives from NASA, Microsoft, Bartlett Engineering, Bayer, National Association of Corrosion Engineers, Core Element, Dell Computers, SPAWAR, American Society of Civil Engineers – Louisiana and Phillips 66.
Kim Jovanovich, assistant dean of engineering, said the event is part of UNO's ongoing commitment to educate and inspire young students who have an interest in pursuing careers in engineering.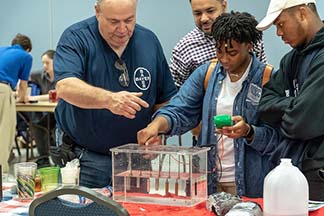 "Society depends on the evolution of technology for its strength and one of the pillars of that foundation lies in engineering—it's the E in STEM," Jovanovich said. "It does not take long to see the effects of engineering in our lives—new means of communications with advancing cellular technology, cars driving themselves, new medical procedures using advanced instrumentation and measurement methods, new building structures not previously possible, and growing emphasis on planetary  exploration with robots and humans working together. UNO finds itself in the middle of this excitement as a metropolitan research university with a diverse engineering college supporting civil and environmental, electrical, mechanical and naval architecture and marine engineering programs."