Saffron is a popular and flavorful spice, so delicate that it must be harvested by hand. Saffron also is the name of one of New Orleans' most well-regarded and nationally recognized new restaurants: Saffron NOLA.
The chic Magazine Street restaurant—where reservations are not required, but are strongly recommended by food critics—is co-owned and managed by University of New Orleans alumni Ashwin Vilkhu and his younger sister, Pranita Vilkhu, along with their parents, Arvinder and Pardeep Vilkhu.
The restaurant is an outgrowth of their parents' catering company of the same name that operated in Jefferson Parish for more than 20 years, as well as a subsequent "pop-up" eatery.
Ashwin, however, a double alumnus who earned an undergraduate and graduate degree in business administration, had visions of something larger and grander.
On Christmas day in 2015, he approached his parents with an idea. Indeed, he gift-wrapped the notion.
"I wrote a thesis, essentially of what Saffron is now and what it could be, and that's kind of where everything changed," Ashwin says. "I gave it to mom and dad as a Christmas gift when I was graduating. I wrapped it up in a box, and said 'This is what we should be doing.'"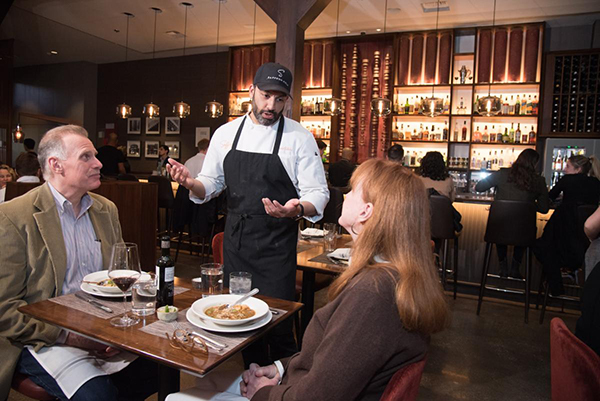 Less than a year after it opened, Saffron NOLA was named a semifinalist in the "Best New Restaurant" category by the James Beard Foundation, the culinary equivalent of the Oscars.  
"This is what I'd envisioned," Ashwin says, gesturing at the restaurant's elegantly adorned dining room.
It is a long way from the restaurant's one-night only dinner genesis in a West Bank strip mall in Gretna. The family served dinner once a week on Fridays to accommodate their catering customers who wanted a sit-down meal.  
In addition, it took a huge leap of faith to make such a transition, Ashwin recalls.
 His parents immigrated to the United States from India more than three decades ago with little money, and were near retirement when their son pushed the idea of a full-fledged restaurant.
They, understandably, were hesitant, Ashwin says. Restaurants are a risky proposition, he knows.
The Vilkhus took their son's plans under advisement, but were not quite ready to act on it. In hindsight, Ashwin says their waiting paid off.
"I had been saying this for the last 10 years, that Saffron should be doing something different, but I didn't know if the city was ready for it yet," Ashwin says. "High-end ethnic food wasn't a thing, and I don't know if it would have been accepted right away. So, it was all about timing."
Then, the city's culinary landscape starting shifting. New ethnic restaurants such as Shaya, also on Magazine Street, and Compere Lapin opened, and were doing extremely well serving Middle Eastern and Caribbean-inspired food, respectively.
Those owners had taken their familial roots and meshed them into the flavor of New Orleans, making it their own, Ashwin says. Those successes renewed a desire to do something similar with his family's Indian culture and tradition.
His parents and sister were on board, so they started searching for a location. They searched for more than a year.
"I found this place," says Pranita, who lives in the commercially revitalized neighborhood.
Once ensconced in the Uptown location, the family set out on a journey to illustrate "the evolution" of Indian cuisine, as the restaurant's website boasts.
The restaurant's name, while "phonetically pretty," as Pranita describes it, is also a bit symbolic of the food served inside.
"Saffron's an international spice and very exotic," Pranita says. "And it's not just used in Indian cuisine, but used in a lot of Italian fare, French cuisine, Spanish . . . We don't just stick to one type of cuisine; we kind of form this medley of flavors and techniques."
The menu melds local and global flavors that are inspired by their father's grandmother, and influenced by the traditions of New Orleans, France, Thailand, Singapore and China.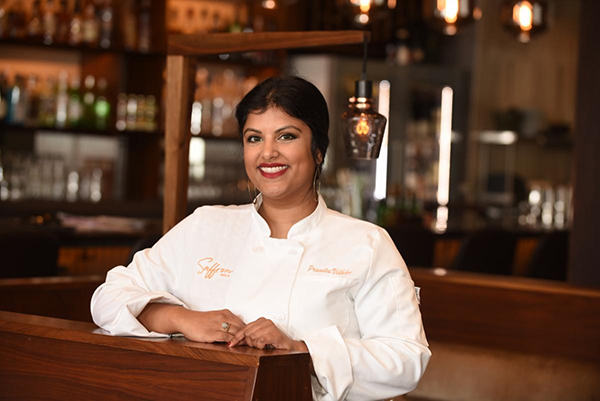 "It is great to see the Indian cooking techniques being transferred to our cooks and chefs here," Pranita says. "It's a cool thing to see."
In March the family is headed to New York City as the invited restaurant to cook at the Beard House, a private fundraising dining event by the James Beard Foundation. The event is billed as "India Meets Mardi Gras."
The five-course dining experience will showcase Saffron's menu staples such as crusted gulf shrimp with tomato-ginger remoulade, curried seafood gumbo with Louisiana lump crab, Gulf shrimp and basmati rice and a dessert that includes fig-date praline ice cream.
A Family Affair
Prior to starting his own catering business, Arvinder Vilkhu worked decades in the hospitality industry, learning the ins and outs of the fickle industry. Those skills often were displayed during family gatherings at their home, Ashwin says, recalling how it seems his parents moved about their home sharing food on platters and mingling as if working a restaurant dining room.
"We grew up having theme nights," Ashwin recalls. "Dad was a real student of the arts. We'd have Italian night, French night, American nights, Indian nights, so we got exposed to so much fare."
The same care their parents used to serve guests in their home is the same hospitality displayed at the restaurant, the siblings say.
"That's the big take-away. Humble home, humble setting, but they had so much grace and elegance," Ashwin says. "We got to see all this and we got to translate all of that into the restaurant."
As in most businesses, there are divisions of labor at the restaurant. Moreover, as is typical in many family-run businesses, there are some overlapping duties.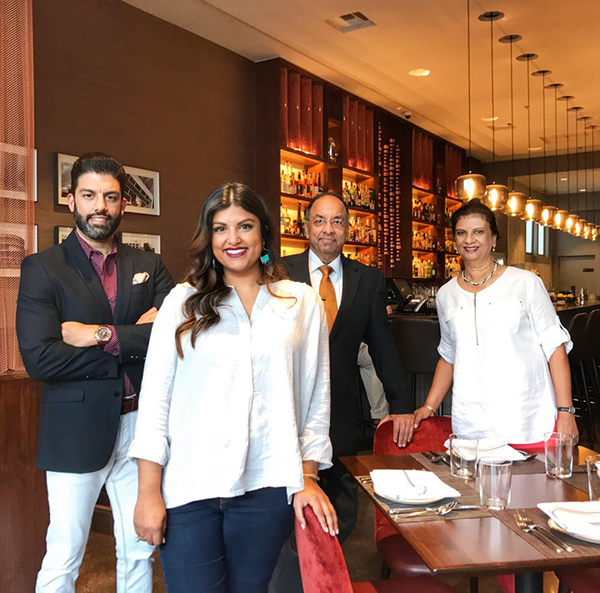 Arvinder Vilkhu is the president, executive chef and the "godfather" of the operation.
"He comes in, shakes a few hands, kisses a few babies, and then goes into the kitchen," Ashwin says laughing as Pranita nods. "He checks the lines and sometimes he works the stations in the kitchens."
Their mother, Pardeep, is vice president, director of operations and the executive production chef. She oversees the prep work and handles the catering events.
Pranita, who holds an MBA in accounting from UNO and works a full-time job outside the restaurant as an internal auditor, is the operations manager. She handles all of the human resources responsibilities and financials – and pitches in on weekends in the kitchen.
"When we had the place on the West Bank, it was me and my friends that were the servers so I have that experience as well," she says laughing. "So if I ever have to step out there, I'm ready!"
Ashwin is the general manager and beverage director. Like his father, Ashwin can be found in the dining room mingling with guests, in the kitchen cooking or stationed behind the bar.
He worked for nearly a decade marketing beverages, and created a beverage menu for the restaurant.
"I sort of do a lot of different things inside the restaurant, honestly because I love it," he says. "If somebody falls out, I want to be able to fall right in. That's just what we were taught. My dad's a jack-of-all-trades; he can work the front of the house and the back of the house."
The Saffron Experience
The goal, Ashwin says, was for Saffron to change the stereotypical expectations of Indian food that he believes many diners had formulated. Since the 1970s and 80s, Indian food had been relegated to either being seen as buffet dining or as a low-end curry house with a 100 page menu offering food from every state in India, he says.
"There's no real experience about it," Ashwin says. "I want people to experience the purity of our food, and the hospitality that is shown in the restaurant because it all stems from our home.
"When people enter this building, no matter how beautiful or how sophisticated, I still want it to feel like you're walking into your home, and that's really what we do."  
Saffron is "dialed into the details," of hospitality and service, Ashwin says, because that is what was demonstrated inside their home.
When the restaurant opened in August 2017, they were scheduled to have several "soft opening" events.
"They weren't soft openings; they were like full-on dinners with hundreds of people," Ashwin recalls. "I think it said something. It said that the city was ready for a sort of different cuisine, they were open and they embraced it. And they are still embracing it and it's getting national attention, which is awesome!"
In February 2018, the restaurant was among 18 semifinalists nominated for the prestigious James Beard culinary award. Despite the fanfare that accompanied Saffron's opening just mere months before, Ashwin and Pranita say they were thrilled, but shocked at making the shortlist of the best new restaurants in the country.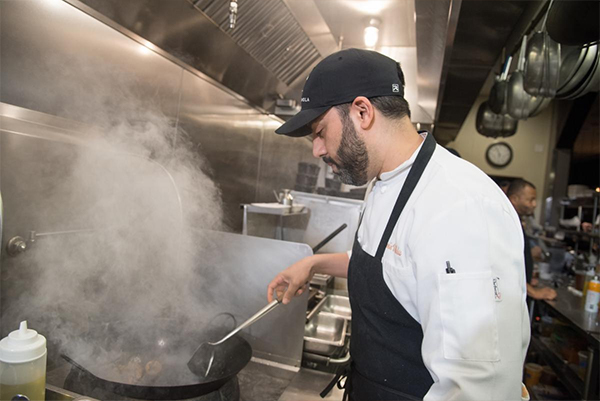 "I didn't even think that we would," Pranita says, citing the fact the restaurant literally had opened only months before the December nomination deadline.
While their parents greeted the possibility of an award nonchalantly, not quite grasping the culinary magnitude of being nominated for such an award, Ashwin says he was anxious.
The night before the Beard Foundation was to release the names of its semifinalists, Ashwin says he could not sleep.
He had pushed the family to take on the risk of opening a full-fledged restaurant, and knew that even a consideration for a James Beard award was like culinary gold.
The next day, his cell phone was exploding with congratulatory calls and texts.
"It was great to be a part of that," he says. "To see mom and dad's hard work of so many years, of them being in a little strip mall doing catering and then all of a sudden be recognized nationally on the biggest stage, that felt good."