The University of New Orleans celebrated its 60th anniversary by honoring the inaugural class of the Hall of Distinction at a black tie gala at the downtown NOPSI Hotel on Friday, Sept. 7. The elegant affair, presented by Hancock Whitney, honored 11 people who have made significant contributions to the University of New Orleans and the city of New Orleans throughout the University's six-decade history.
"Tonight's honorees represent different professions, different areas of expertise and even different eras," said President John Nicklow. "But every single one of them is a difference-maker whose commitment, dedication and selflessness helped create a better city and a better UNO."
Master of ceremonies Norman Robinson led the audience of more than 200 through brief snapshots of each honoree's professional and civic life. Honorees Raymond Brandt, Robert Merrick, Thomas Kitchen, Gary Solomon Sr. and Gordon "Nick" Mueller all took the stage to accept their award from President Nicklow and make remarks. Grace Ambrose-Zaken accepted the award on behalf of her late father, Stephen Ambrose. Carole Tureaud accepted on behalf of her late father, Alexander Tureaud Sr.  James Caillier, executive director of the Taylor Foundation, accepted the award for the late Patrick Taylor. John Amato accepted James Moffett's award. A prerecorded video of honoree Gayle Benson's acceptance speech was played on large projection screens, and her award was accepted by Mark Romig, a UNO graduate and Saints public address announcer.
Common themes emerging from the honorees included the vital role played by the University of New Orleans in the vitality of the city and the University's ability to catapult students to greater economic mobility.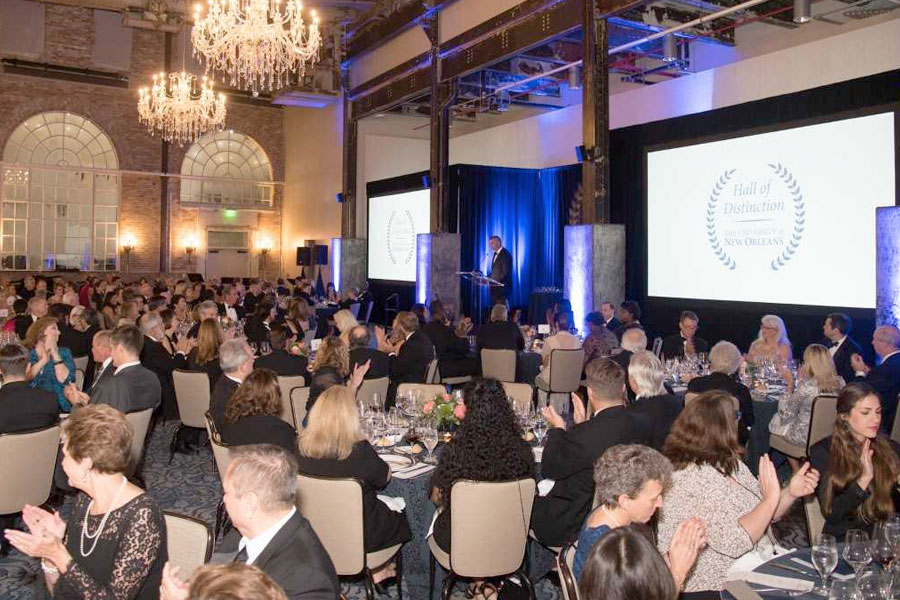 "As a first generation college graduate, I really don't know where I would be today but for the University of New Orleans," said Kitchen, the former president of Stewart Enterprises and Avondale Industries. "I see the difference that the University has made in the city. I would say that metropolitan New Orleans does not work without the University of New Orleans. It's that simple. Its impact is that profound on the city."
Kitchen was among several other successful businesspeople and respected community leaders honored, including Brandt, Merrick, Solomon, Gayle and Tom Benson, and James Moffett. Former University of New Orleans history professors Mueller and Ambrose brought their visionary approach to creating the institution that would become The National WWII Museum, now the most visited tourist destination in New Orleans. Pioneering civil rights attorney Alexander Tureaud Sr. was recognized for his many achievements, including filing a successful lawsuit in 1958 that ensured that the University of New Orleans was the first public university in the South to open as a fully integrated institution.
Many of the honorees expressed gratitude to the University and pledged their continued commitment to the city's only public research university.
"We will support UNO as long as I'm alive and as long as I control Latter & Blum, and we're proud to do it," said Merrick, the chairman and CEO of Latter & Blum, Inc., the Gulf South's largest full-service real estate brokerage firm.
"I have been involved with the University for many years," said Solomon, a UNO alumnus and CEO of Crescent Bank & Trust, Inc. "I promise you this is the most energy and the most optimism I've ever seen at the University of New Orleans since Hurricane Katrina."