A high school graduate posts her college ID on Facebook as proud declaration of her admittance to her university of choice. A class of 10th-grade computer students keeps their network passwords taped to the underside of their laptops. A 14-year-old sees the email with the subject line, "hey I thought you would like this" and clicks – because why not?
If anyone is vulnerable to a multitude of cybersecurity threats, school-aged youth are high on the list. That's one reason why the University of New Orleans' two-week GenCyber immersive cybersecurity training program for high school teachers has been such an attractive draw for five years running.
"This has been so eye-opening," said Cathy Boucvalt, a physics and anatomy teacher at John Curtis High School in New Orleans who participated in GenCyber June 18-29 on the University's campus.
Funded by the National Security Agency and the National Science Foundation, GenCyber is free to teachers who want to learn the ins and outs of internet safety. The hope is that the teachers will bring greater understanding and awareness of cyber risks to their students while also exposing their charges to the career possibilities in this fast-growing field.
With training provided by the University's Greater New Orleans Center for Information Assurance – a National Security Administration and Department of Homeland Security-designated center of excellence in cyber operations – teachers receive hands-on instruction and exposure to a rapidly evolving field that comes with its own glossary of terms:
Phishing. Vishing. Trojans. Malware. Spam. Bots. Denial of service attacks.
The words and phrases describe a multitude of ways private data can be exploited in an increasingly electronic world. By the end of the program, GenCyber participants were using them as if they'd been speaking the language for years.
"This was fantastic," said Daniel Scheer, a Covington High School physics teacher who has been teaching for 20 years. "It was probably one of the most informative professional development workshops I've ever received. Ever!"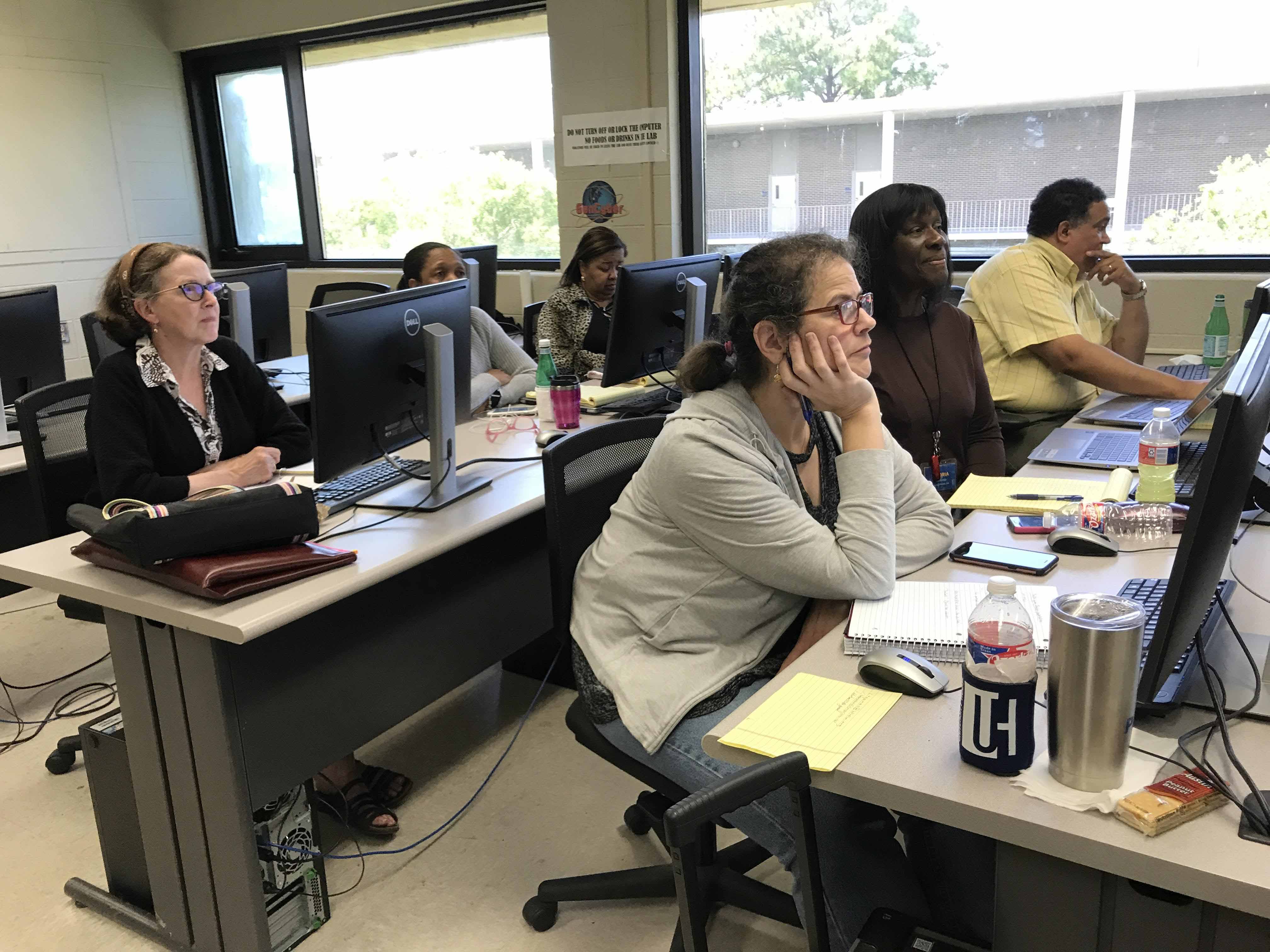 Vassil Roussev, professor of computer science and director of the Greater New Orleans Center for Information Assurance, said he worked with University of New Orleans partner Core Element this year to recruit teachers. About 15 of the 23 participants came from the New Orleans metro area—a higher local participation showing than in prior years.
GenCyber provides participants with Chromebooks that have been pre-loaded with all the instructional materials used in the program, including PowerPoint slide sets, lab exercises and activities. Teachers were allowed to keep the laptop with the hope and expectation that they can now reuse the provided materials in direct instruction of their own students. The program also covers costs for travel, lodging and meals for the teachers.
Marcus Sudderth, a seasoned educator from Gwinnett County, Ga, said the program provided a tremendous opportunity for him to prepare for a new cybersecurity program that his district will be offering through its alternative schools.
Sudderth said he was a little concerned about the two-week commitment required of the training. But he said it turned out to be an "awesome, awesome conference."
"All of us are so thankful for GenCyber and the National Science Foundation for the funding," he said, "because we are charged with going back and turning students into lovers of cybersecurity, not only so that they can make money but also so that we can be protected.
"Thank you for enlightening us and frightening us at the same time," Sudderth said to Roussev and instructor Joshua Barone, a senior developer at Black Bag Technologies and University of New Orleans alumnus, who taught the bulk of the seminar.
As the program wound down, the participants gave brief presentations about some of the ways they would use the things they'd learned at GenCyber in their own classrooms.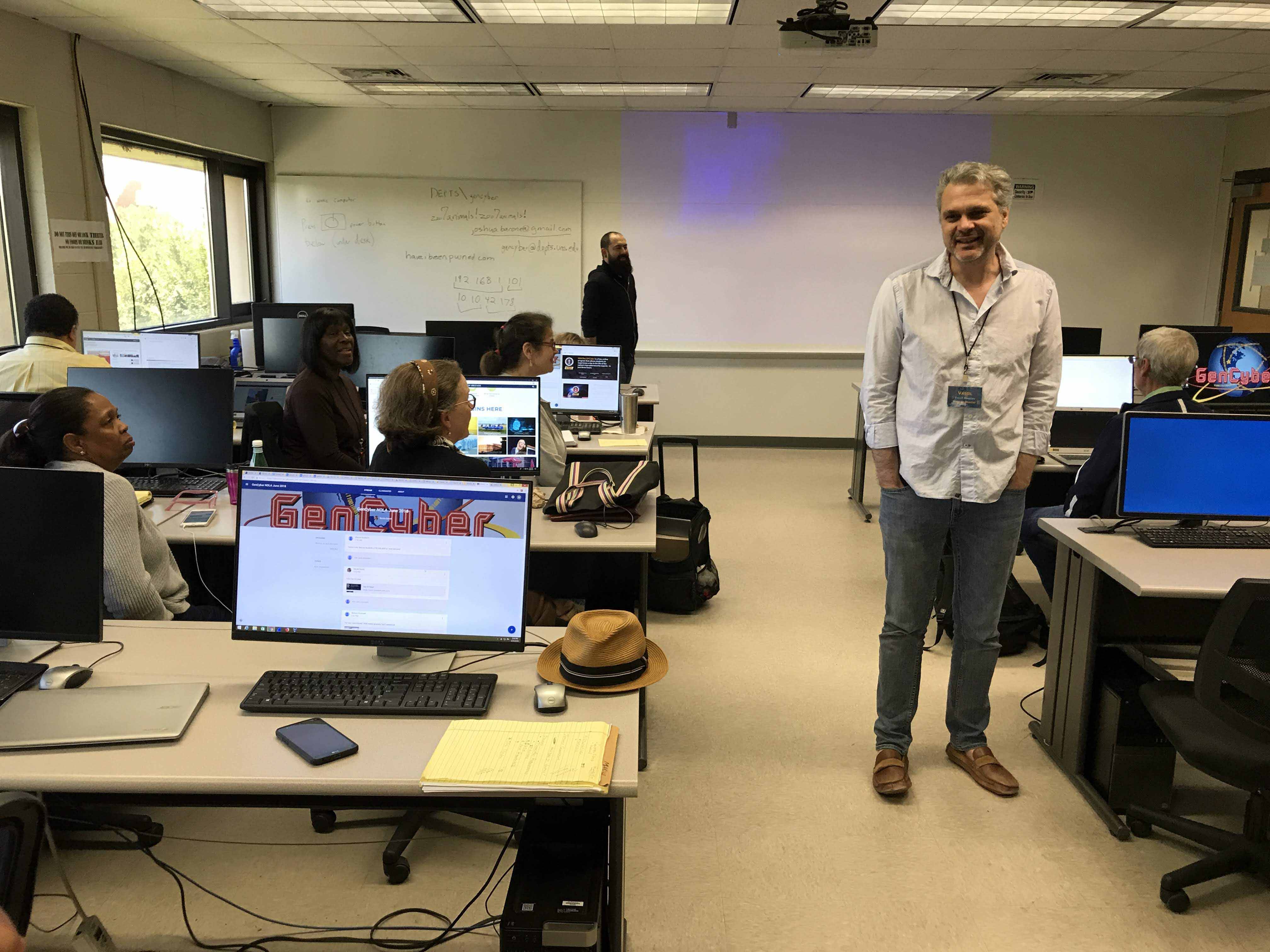 Roussev said that the need for cybersecurity experts is only growing. Indeed, the U.S. Department of Labor projects that the number of jobs for information security analysists will have grown 28 percent between 2016 and 2026—much faster than average. The median income for such positions was $95,510 as of 2017.
As news headlines continually broadcast, the need to protect our personal data from vulnerabilities and security breaches is ever-growing. Cybersecurity is a field where a spectrum of personalities can thrive, Roussev said.
"This is not going to get solved any time soon," Roussev told the participants. "It's going to get worse before it gets better."
For more information about the GenCyber program, go here: https://www.gen-cyber.com/
Pictured at top: Cathy Boucvalt, a physics and anatomy teacher at John Curtis High School in New Orleans, presents some of the information she hopes to bring back to her own students regarding information security.