Major and Minor Opportunities
B.A. in English
UNO's Bachelor of Arts in English degree is an intellectually challenging, academically flexible program that will help you achieve your goals of becoming a clear communicator, a critical thinker, and a culturally literate citizen. In addition to foundational courses introducing you to some of literature's most central texts and modes of analysis, you'll choose from a wide range of electives that allow you to chart your own academic course, exploring the texts and questions that align best with your interests. Courses in journalism, creative writing, professional writing, and literary studies are regularly offered as well, so you'll have every opportunity to explore your specific passions.
The Bachelor of Arts in English is a 120-credit-hour program, including 39 general-education credits, 48 other required credits, and 33 English credits, 18 of which may be upper-level electives. To complete a concentration within the B.A. in English, students may earn 12 of the 18 elective credits in either journalism, professional writing, creative writing, or literary studies. More details about degree requirements can be found here.
Minor in English
Students can minor in English by completing 18 credit hours of English or journalism courses and earning a C or better in each. At least nine hours of coursework must be completed at UNO to qualify for the minor.  More details about degree requirements can be found here. 
If you have questions about majoring or minoring in English, contact ajspengl@uno.edu.
Honors in English
The Honors in English program is open to all qualified students at UNO: both majors and non-majors, and both those enrolled in University Honors and those not enrolled. To qualify for the honors program, you'll need to maintain a minimum 3.5 GPA while completing a minimum of nine credit hours in honors courses. Non-majors must also complete a minimum of 12 semester hours in English courses approved by the department, at least six of which are numbered 3000 or above.
The capstone of the honors experience is the honors thesis, which can include three hours of previous coursework. Once you successfully complete and give an oral defense of your English honors thesis, you'll be eligible to graduate with honors.
If you have questions about the Honors in English program, contact english@uno.edu.
Corporate and Non-Profit Communication Certificate
The Department of Language and Literature offers an Undergraduate Certificate in Corporate and Non-Profit Communication! Our certificate program guides students through the techniques of writing for corporate and nonprofit settings. Through a series of multidisciplinary writing courses, students strengthen the writing skills necessary for today's workplace. 
Courses familiarize students with the basics of writing for digital media, document design, and editing.
Students also learn how to write various professional documents, including memos, proposals, reports, instructions, charts, tables, and figures.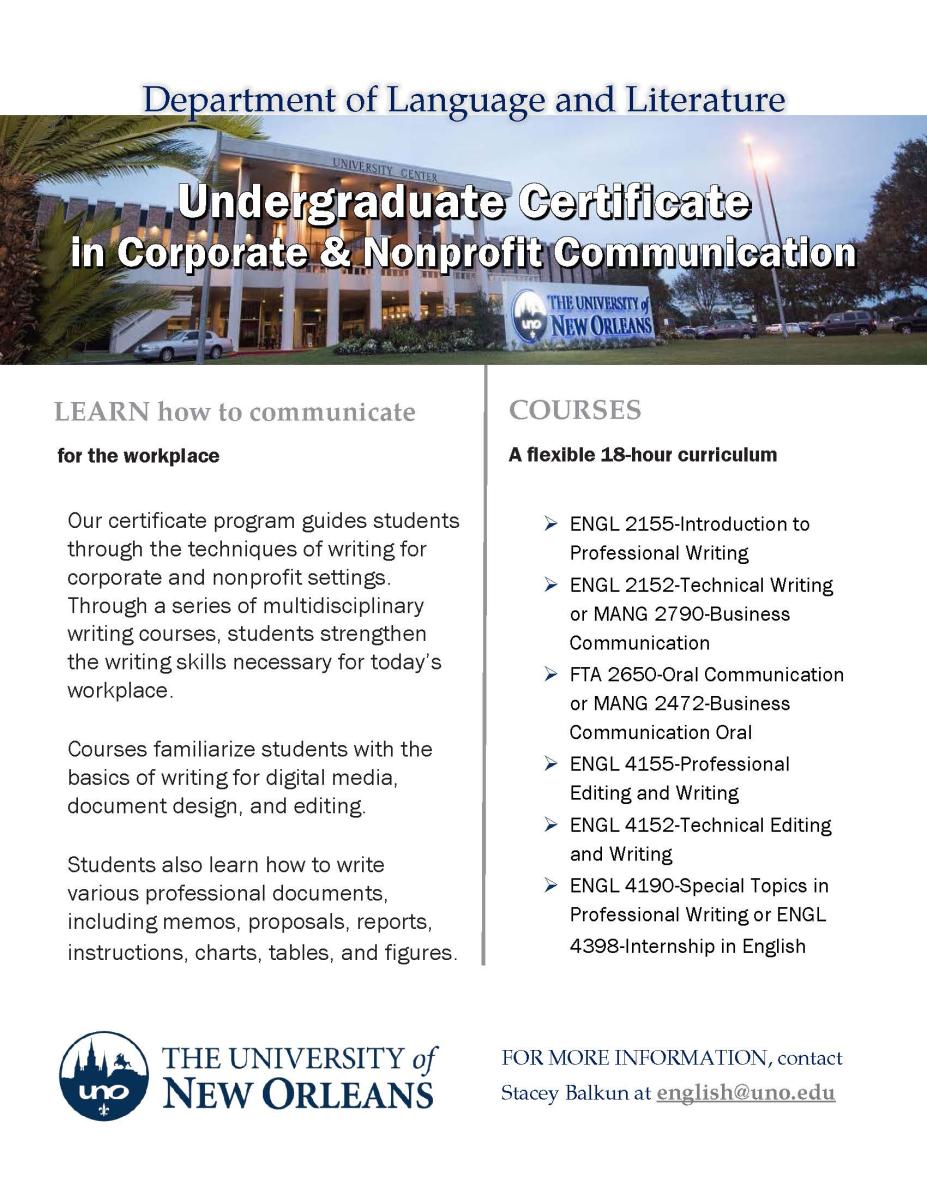 If you have questions about the Certificate, contact english@uno.edu.
"I can honestly say that the teachers in the English Department at UNO are the most dedicated, knowledgeable, caring, and encouraging teachers I have ever encountered in my life."
— Marly Robertson, B.A. in English '05, M.A. '07
---
B.A. in English: Concentrations

Creative Writing
In the creative writing concentration, you'll hone your craft in fiction, nonfiction, poetry, and/or hybrid forms. Working closely with our skilled faculty and learning from your talented fellow students, you'll develop your own literary voice and strengthen every aspect of your writing and editing skills.

Journalism
The journalism concentration will expose you to feature writing, reporting, editing, and other aspects of today's quickly evolving journalism landscape. Through extensive practice in research, interviewing, and reporting, you'll be ready to help shape the future of journalism in the years to come.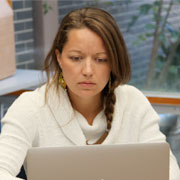 Professional Writing
In this concentration, you'll learn about the theories and practices of professional writing such as modern composition, technical editing and reporting, legal writing, and much more. Industries of all kinds rely on talented writers for their day-to-day operations—and with a concentration in professional writing, you'll be the skilled communicator they're looking for.

Literary Studies
By concentrating in literary studies, you'll gain in-depth knowledge of the great movements that shaped the course of literature. The options for your focus area are practically endless: women and literature, black literature, genres from 1500 to 1860, and so many more.
---
What You'll Learn
A bachelor's degree in English will teach you how to understand and appreciate the beauty of written text, but its utility goes beyond that. It's the springboard that will elevate your skills in the humanities—exactly the kind of skills that today's employers are looking for, and that will make you a more informed and thoughtful citizen of the world.
In UNO's Bachelor of Arts in English program, you will:
Develop a broad knowledge of British and American literary history.
Understand the relations between texts and their literary trends and historical contexts.
Learn how to find and integrate appropriate and credible sources into written assignments.
Produce essays with a specific thesis based on analysis and research, effective use of support for the thesis, a clear plan of organization, and clear and correct writing.
Analyze poetry, fiction, drama, and nonfiction with an understanding of the elements of each genre.
By the time you complete your B.A. in English, you'll have developed the skills in close reading, critical thinking, and persuasive communication that will set you up for success no matter where your future takes you.
Student Learning Outcomes
Student Learning Outcomes specify what students will know, be able to do, or be able to demonstrate when they have completed a program of study.
"The English majors at UNO are completely and utterly willing to throw themselves into their craft, generating amazing conversations and discussions."
— Sam Kane, B.A. in English '11
---
English Internships
You don't need to wait until you finish your B.A. in English to start getting hands-on experience in your field. You can start right now, with a for-credit internship through the English department. Each English internship lasts the course of a semester and adds up to about eight hours of work per week. After completing your on-site work, you'll be responsible for a final portfolio that includes a work log, a final report, and work samples.
Internships can take place in any field that's relevant to your English major and career interests: writing for print or digital media, publishing, editing, marketing, radio and TV broadcasting, event planning, teaching, and others.
Past English majors have interned with organizations including:
826 New Orleans (formerly Big Class)
The Black Collegian magazine
CNN
Driftwood UNO student newspaper
The Ehrhardt Group
A local homeschooling organization
Lusher Charter Elementary School
Pelican Publishing Company
UNO College of Liberal Arts Public Relations Office
WDSU
Where Y'at magazine
---
Sample Courses
African and Caribbean Literature
The Contemporary Novel
Feature Writing
New Orleans Literature
The Nineteenth-Century English Novel
Professional Writing
Sports and Entertainment Reporting
"My employer instantly recognized my degree in English from UNO and made the final decision to hire me based on it."
— Kelly Vest, B.A. in English '03
---
Where Can You Work with a Bachelor of Arts in English?
Advertising
Communications
Education
Journalism
Law
Public Relations
Publishing
And More!
---
Faculty Spotlight
Oluwaniyi Osundare, Ph.D.
Specialization: African and Caribbean Literature
· Poet, Dramatist, Essayist, and Critic
· Author, City Without People: The Katrina Poems
· Association of Nigerian Authors Poetry Prize
· Cadbury/ANA Poetry Prize
· Commonwealth Poetry Prize
· Noma Award
· Tchicaya U Tam'si Prize for African Poetry
· Fonlon-Nichols Award
· Nigerian National Order of Merit Award
Elizabeth Steeby, Ph.D.
Specialization: Twentieth-Century American Literatures
· In-Progress Project on Legacies of Plantation Slavery
· Research Interests: U.S. Southern Studies, Comparative Ethnic Studies, Critical Gender Studies, Queer Theory
· Courses Taught: New Orleans Literature, U.S. Prison Literature, American Modernism, Contemporary American Literature
Nancy Easterlin, Ph.D.
Specialization: Women's and Gender Studies
· Author, A Biocultural Approach to Literary Theory and Interpretation
· Guggenheim Fellow
· Courses Taught: British Romanticism; The Contemporary Novel; Sex, Power, and the Short Story
"UNO's English Department truly challenged me, and it gave me an excellent foundation for my teaching career."
— Melanie Punch Lohfink, B.A. in English '02
---
Ways to Get Involved
The English Club
As a member of The English Club, you can attend exciting events throughout the year, including workshops with local authors and readings by student writers. The club also partners with Loyola University New Orleans and Tulane University to host the 1718 reading series at the Columns Hotel on St. Charles Avenue.
Third Wednesday Talks
These talks, sponsored by the English Department, focus on a different topic of interest in the literary life three times each semester. Speakers have included faculty members, internship supervisors, alumni, local writers, and other members of the literary community of New Orleans.
Sigma Tau Delta
This international honor society for English majors is open to those who are within the top 30 percent of their class and have maintained a 3.50 GPA or better. In addition to boosting your resume, being a member of Sigma Tau Delta also makes you eligible for a number of scholarships and internships, and it gives you the opportunity to present your research at the society's international convention. The UNO chapter also participates in student leadership and community service projects throughout the year.