Undergraduate English
English B.A.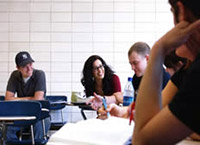 The English major offers a course of study that provides a solid foundation for rewarding careers and informed citizenship. Today, there is no better way to prepare for careers requiring analytical and communication skills than to major in English. Students who love to read, write, and explore new ideas will be challenged to reach their full potential as culturally literate individuals.
The undergraduate program is intellectually challenging and academically flexible; it provides a general background in literature while also offering a varied menu of elective courses.
Student Learning Outcomes
College of Liberal Arts,
Education and Human Development

Bachelor of Arts in English
Students will develop a broad knowledge of British and American literary history with an understanding of the relations between texts and their literary trends and historical contexts.
Students will learn how to find and integrate appropriate and credible sources into their written assignments.
Students will be able to produce essays with a specific thesis based on analysis and research, effective use of support for the thesis, a clear plan of organization, and clear and correct writing.
Students will be able to analyze poetry, fiction, drama, and nonfiction with an understanding of the elements of each genre.
Concentrations
Students can choose to apply their electives to an optional concentration.
Have Questions?
Rachael Smith, MFA
Academic Advisor
Phone: (504) 280-7466
Email: rssmith4@uno.edu
Scholarships & Awards
The Department of English offers a number of scholarships and awards to students.

Creative Writing
Creative writing expands towards different writing and editing styles such as fictional, poetry, non-fictional, and more.

Journalism and Professional Writing
Learn about theories and practices of professional writing such as Modern Composition, Technical Editing and Reporting, and Legal Writing. Journalism will expose you to feature writing, reporting, editing and more.

Literary Studies
Examine great movements in literature. Studies include Women and Literature, Black Literature, Genres from 1500 to 1860, and more.
Minor in English
The Department of English offers students a very flexible minor program that may be tailored to their individual needs. To achieve a minor in English, a student must complete eighteen credit hours in English or Journalism with a minimum grade of C in each course taken for the minor. At least nine hours of coursework must be taken at UNO. Please contact the Coordinator of Undergraduate English for more information.
Study Abroad Programs
Study abroad programs are also available in Innsbruck, Prague, Costa Rica, Madrid, Montpelier, and Rome. Many English faculty regularly teach in these programs.