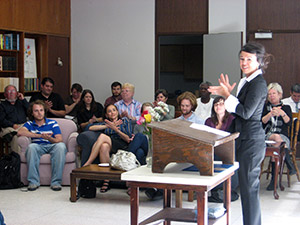 The Department of English is expanding opportunities for students to get involved and to stay in touch. We have an email list, a Moodle site, as well as a thriving English Club.
The English Club
The English Club has sponsored many events, such as workshops with local authors and student readings.
The club also partners with Loyola University New Orleans and Tulane University in the 1718 series of readings at the Columns Hotel on St. Charles Ave. Students interested in joining the English Club should watch their email for announcements.
Third Wednesday Talks
The English Department sponsors three Third Wednesday Talks each semester for the benefit of English majors primarily, though all are welcome. Each talk focuses on a topic of interest to English majors; speakers are faculty members, internship supervisors, students, alumni, local writers and others involved in the literary life of New Orleans.