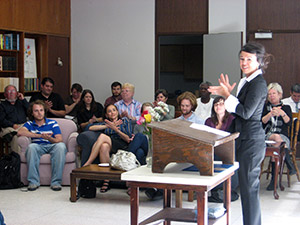 The Department of English is expanding opportunities for students to get involved and to stay in touch. We have an email list, a Facebook page, a Canvas site, and hope to get our thriving English Club started back up now that we're past pandemic protocols.
Midday Musings
The English Department sponsors three Midday Musings events each semester for the benefit of English majors primarily, though all are welcome. Each talk focuses on a topic of interest to English majors, like "Research and Inspiration," "Vampires in Lit, and "Poetry of the Divine and Profane." Speakers are faculty members, internship supervisors, students, alum, local writers, and others involved in the literary life of New Orleans.
Spring 2023 dates include February 15, March 15, and April 19. Spring speakers include award-winning author and UNO alum Maurice Carlos Ruffin, author of The Ones Who Don't Say They Love You, recently chosen by One Book, One New Orleans as the 2023 selection. All events will take place in Liberal Arts room 197.
September 14, 2023
12:30-1:30 PM in LA197
"Celebrating Banned Books: BBW Preview"
Featuring Dr. Megan Holt, Sebastian Figueroa, Taylor Amalfitano
& moderated by Ciel Quebedeaux
October 12, 2023
12:30-1:30 PM in LA197
"Oh, the Horror!"
Featuring Kelly Le, Cree Pettaway, Ali Householder
November 2, 2023
12:30-1:30 PM in LA197
"Seeking Nourishment: Writing Food"
Featuring Melissa Martin, David Beriss, and Sophie Nau
Moderated by Teresa Jacobson, this discussion will center on food writing.
For more details, email english@uno.edu.
Creative Writing Club
New in Fall 2023! Creative Writing Club will meet several times a semester to build community and engage in the craft of writing creatively.