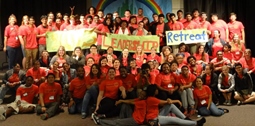 The UNO Leadership Retreat embodies the relational leadership model that fosters self development and empowerment in a collaborative manner with others who want to make a difference through their involvement and leadership abilities. For the past twenty years, students have come together for a weekend of leadership development and self-discovery. The leadership retreat provides opportunities for students looking to get involved as well as present student leaders.
The skills learned and friendships gained from this weekend not only help students to become better individual leaders, but most of these leaders return to campus and make a difference UNO campus through their involvement in organizations.
The Leadership Retreat is a weekend experience. Students board buses Friday afternoon and return to campus Sunday afternoon.
The weekend consists of large group and small group leadership sessions that teach leadership styles, team building, and include a plethora of leadership skill development opportunities. The new conference center also has certified personnel to conduct the ropes course and various teambuilding exercises.