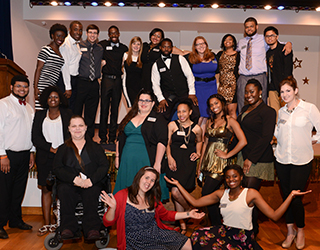 The UNO Leadership Cabinet has served the University of New Orleans for over 20 years and has provided leadership opportunities for all students on campus regardless of their leadership experience. The Leadership Cabinet was started as a leadership initiative within the Division of Student Affairs and Enrollment Management and funded through Student Government since the Cabinet's inception as service to the students. The Leadership Cabinet at the University of New Orleans aims to improve and enhance student success in college and beyond. Members of the Leadership Cabinet plan and execute UNO leadership programs.
The UNO Leadership Cabinet shall be composed of student leaders with diverse backgrounds, leadership styles, and personalities, however, all unite under a common passion for inspiring fellow students to become effective, ethical leaders and responsible citizens both at the University of New Orleans and throughout the community!
The Cabinet has primarily consisted of student leaders who go through an application process and are selected to be on the Leadership Cabinet.