Business Card Orders
Business Card Style Standards
Faculty and staff can now purchase business cards at their own convenience. Simply click the link below to our business portal website. Set up an account, then create your business cards. After you are done, Creative Services will proof the information, then place the order. Due to printing schedule, business cards take approximately 3-4 weeks once approved for print. If you run into any issues or have questions, reach out to creative@uno.edu.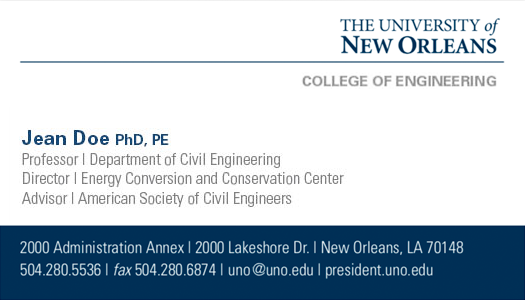 College/Unit
The name of your college or administrative unit will be placed under the university logo. Your department or office name will be put on the first title line.
Name and Degree Notation
No comma separates the name from the first notation. A comma does separate one notation from another.
Title Lines
The first line should be main appointment or job duty. The second through fourth lines include be secondary job duties. A vertical line separates your job title and the office that job is in.
Building Line
Your office number followed by your building name is added. This is followed by the University address. All cards must feature the University address.
Contact Information
Only four pieces of contact information can fit on a card. In order, they are placed: office phone, fax, cell phone, email, website. Office and fax numbers must be university numbers. Only @uno.edu email addresses will be added and web address must be a short "vanity" link, like creative.uno.edu instead of
http://www.uno.edu/ocprm/creative-services.aspx.
Pricing
250 QTY: $99.00
500 QTY: $114.00
NOTES:
Be sure to set up an account. We recommend that you use your UNO credentials when setting up an account.
The portal can only create official university and athletics business cards. For WWNO business cards, please email creative@uno.edu.