Steven W. Rick, Ph.D.
University Research Professor
Contact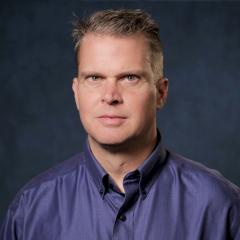 Education
B.S., University of California, Los Angeles
Ph.D., University of California, Berkeley
Postdoctoral Research, Brown University
Postdoctoral Research, Columbia University
Research Interests
The research in our group uses theoretical and computational approaches to a variety of chemically interesting systems. Our work involves the development of more efficient computer simulation methods and better models for molecular interactions. We are applying these methods to the study of liquid water, interface, aqueous solutions, proteins, and ion transport through various materials.
Computer simulations, polymers, proteins, simulation methods and models, aqueous solutions