Elizabeth Steeby, Ph.D.
Graduate Coordinator of English
Associate Professor
Contact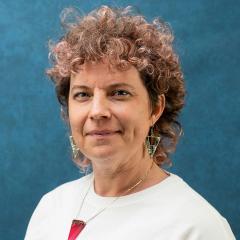 Education
B.A., University of Mississippi
Ph.D., University of California, San Diego
About
Dr. Elizabeth Steeby specializes in 20th-century U.S. Southern literature with a focus on race and sexuality. Her current research considers the adaptation of plantation slavery in the post-Civil War era and the communities and culture its resistors forged between the U.S., the Caribbean, and beyond.
Her research and teaching is informed by multiethnic approaches to U.S. literature, the history of social justice movements, feminist criticism and queer theory, and cultural studies of empire. Her local interests often revolve around disaster capitalism, the politics of the city block, anti-prison activism, and notions of reconciliation vs. reckoning. New Orleans continues to be an everyday inspiration in mapping these intersections and witnessing the power of public performance.
She has published articles on radical intimacy in the era of Jim Crow fascism, biopolitics and disaster management of the 1927 Mississippi River flood, and the autobiographical narratives of political prisoners.
In 2011, she won the English Graduate Organization's Excellence in Graduate Teaching Award.
She teaches courses in U.S. Modernism, Southern literature, New Orleans regional literature, transnational American literature, and gender and sexuality studies. Along with Randy Bates, she co-runs a creative writing and literacy program for incarcerated people in Orleans Parish.
Selected Publications
"Almost Feminine, Almost Brother, Almost Southern: The Queer, Transnational Figure of Charles Bon in Faulkner's Absalom, Absalom!" Global Faulkner. Eds. Ann J. Abadie and Annette Trefzer. Jackson, Miss: University Press of Mississippi, 2009.
"Radical Intimacy under Jim Crow 'Fascism': The Queer Visions of Angelo Herndon and Carson McCullers" Mississippi Quarterly. Winter 2014.