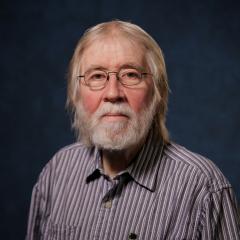 About
Area of Specialty: Nonfiction | Poetry
Randy's primary teaching areas are workshops and literature courses in nonfiction. He regularly teaches the graduate workshop in nonfiction writing and, when offered, advanced and introductory nonfiction writing for undergraduates. He occasionally teaches the graduate nonfiction workshop in the low residency program and he has taught graduate nonfiction writing in UNO's programs abroad in Montpellier, France, where he served as Academic Director, and in Cork, Ireland. He also teaches Introduction to Creative Writing, Introduction to Poetry, Major American Writers, and composition courses, and he co-coordinates a service learning course and community outreach program in which UNO graduate students teach reading and creative writing to people incarcerated in the Orleans Justice Center (formerly Orleans Parish Prison) and in related work-release and re-entry programs.

Prior to coming to UNO in 1999, Randy taught at Xavier, Harvard, Tulane, Loyola, LSU, the New Orleans Center for Creative Arts (NOCCA), St. Martin's Episcopal School, and New University High School. He has been awarded the John Monroe Dissertation Fellowship from Tulane, from which he earned his PhD and MA in modern American literature with secondary concentrations in modern and renaissance literatures; a MacArthur Foundation Endowed Residency at the artists' colony, Yaddo; writing residencies at the MacDowell Colony and Blue Mountain Center; the Frank Vogel Scholarship in Prose, Bread Loaf Writers' Conference; an Artist Fellowship in Literature, State of Louisiana; a Fellowship in Creative Writing (nonfiction) from the National Endowment for the Arts; recognition for Distinction in Teaching in the Expository Writing Program at Harvard; the English Graduate Faculty Award at UNO; and the UNO Alumni Association Award for Excellence in Teaching.
For fifteen years, he served as Nonfiction Editor of Bayou Magazine.
Book
RINGS: On the Life and Family of a Southern Fighter (Farrar, Straus & Giroux).
Electronically re-printed as RINGS: On the Life and Family of Collis Phillips (Perseus Books).
RINGS was published to starred reviews in Publishers Weekly (". . . a powerful, moving chronicle of triumph over despair . . . makes readers grasp the socio-economic circumstances of what it means to be black in America.") and in Library Journal (". . . more than a boxing book . . . a well-crafted narrative about ghetto life and the impact of racism on the lives of many black Americans. Highly recommended."), described in the New Orleans Times-Picayune as "an odyssey of self-discovery as well as quest for racial comprehension and understanding"and by syndicated reviewer Richard Eder in the Los Angeles Times Book Review as an". . . extraordinary book. The effort was made out of a conviction that understanding without involvement is not only incomplete, but can easily become—a white man writing about a black family—exploitation. This book is not a tour but a journey; its end as uncertain as its departure; its passage supremely moving and revealing. . . . The revelations come bit by bit . . . as the story accumulates power without sacrificing complexity. . . . There is much, much more. RINGS is a book of quixotic fidelity. It has quixotic wackiness, as well; but, as in the book the adjective comes from, it is wackiness in the service of revelation. It does as much as it possibly can and acknowledges its limits. . . . and in the shortfall lies the book's astonishing achievement. It fails magnificently in suggesting a solution for the story of Collis and his family; it leaves us with an open wound. We will not die from it nor even, probably, amend our lives."
Chapbook
Dolphin Island: Poems (Finishing Line Press).
Work-in-progress
Magnolia Amusement Company: Prose & Poems.
Periodical publications
Nonfiction in Ploughshares, Grand Street, the Chattahoochee Review, New South, and others.
Poetry in Prairie Schooner, the Southern Review, Poetry NOW, the Seattle Review, and others.
Fiction in the Cimarron Review, the New Orleans Review, Redux, and POMPA.
Reviews in the Boston Globe, the Los Angeles Times, the Times-Picayune, and the New Orleans Review.