M.O. Walsh
Director of Creative Writing Workshop
Associate Professor (fiction)
Contact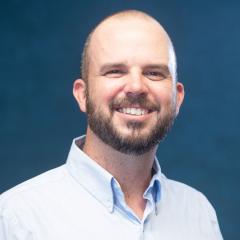 Education
M.A., University of Tennessee | M.F.A., University of Mississippi
About
Area of Specialty: Fiction
Books: My Sunshine Away (G.P. Putnam's Sons) and The Prospect of Magic (Livingston Press). Essays and stories in The New York Times, The Guardian, The Southern Review, Oxford American and others.
M.O. Walsh was born and raised in Baton Rouge, Louisiana. He has spent his entire adult life in the American South, from the Smoky Mountains of Tennessee to the lakes of Mississippi to the hot green lawns of Louisiana, and would not want it any other way. Besides writing, his main interests are being fanatical about unimportant things like collegiate sports and slapstick comedies, trying out new bourbons, and trying to find the best roast beef po' boy on the planet. He is also madly in love with his beautiful wife, genius daughter, and strapping young son. This also takes up a lot of his time.
His fiction ranges somewhat wildly from Magical Realism to traditional Southern storytelling to 2nd person Fabulism, while he is admittedly not certain what those terms mean. His first book, The Prospect of Magic was published in 2010 by Livingston Press as winner of the Tartt's First Fiction Prize. Described by The Southern Literary Review as a book "so vivid...it brings Louisiana to life in a way that no [book] has done before..." The Prospect of Magic was a named an Editor's Pick for Best Books of 2010 by Oxford American and was a Finalist for the Eric Hoffer Award for General Fiction.
His novel My Sunshine Away was a New York Times Bestseller, an Amazon Featured Debut, and an NPR Top 100 book of 2015. It also won the Pat Conroy Book Prize for Fiction. Foreign editions have been published in the UK, Netherlands, Italy, Spain, France, Brazil, Israel, Serbia, Turkey, South Korea and Hungary. Of the book, the novelist Tom Franklin says, "My Sunshine Away is that rarest find, a page-turner you want to read slowly and a literary novel you can't look away from. At times funny, at times spine-tinglingly suspenseful and at times just flat-out wise, this novel is also a meditation on memory, how it can destroy or damn us but redeem us as well. It's a book to read and reread, one that will only get better with time..." The Kirkus Review says "Celebrate fiction lovers: The Gods of Southern Gothic storytelling have inducted a junior member."
Walsh is currently the director of The Creative Writing Workshop, with both Resident and Low Residency MFA options.