Mark A. Kulp, Ph.D.
Associate Professor
Department Chair
Contact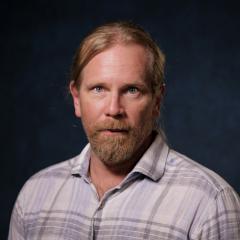 Education
Ph.D., University of Kentucky, 2000
M.S., University of Kentucky, 1995
B.S., Juniata College, 1992
About
Dr. Mark Kulp is originally from southeastern Pennsylvania but after completing a Ph.D. on subsidence of the Mississippi River delta at the University of Kentucky he accepted a position at the University of New Orleans. He has a background in sedimentary geology and for the last decade has specifically focused on coastal geomorphology and coastal systems and completed studies along the Gulf Coast, U.S. eastern seaboard and maritime Canada. At UNO he has instructed in the areas of structural geology, coastal geomorphology, environmental geology, sedimentology and stratigraphy. He has been author or co-author on research articles published in Marine Geology, Journal of Coastal Research, Geomorphology, Geology and presented at numerous national to international professional conferences.
Research Interests
His major area of research is the geology of the northern Gulf Coast with a special emphasis on the sedimentary framework of the Mississippi River delta system and evolution of the Louisiana coastal plain in response to changes in sediment supply, sea-level rise, and subsidence. Current investigations include the relationship between marsh health and substrate subsidence, the evolution of Louisiana barrier islands and inlets in response to coastal erosion and interior wetland loss, as well as the latest Quaternary north-central Gulf Coast. Additional research focuses on how the regional geology and geologic processes affect current coastal restoration initiatives across the Louisiana Coastal Zone.