John Gery
Research Professor (Poetry)
Contact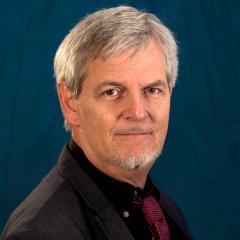 Education
MA, University of Chicago, 1976 | MA, Stanford University, 1978
About
John Gery's seven books of poetry include The Enemies of Leisure (Publishers Weekly Best Book Award, 1995), American Ghost: Selected Poems (Franz Kafka European Award, Prague, 1999), A Gallery of Ghosts (2008), and Have at You Now! (2014), among others. His work has appeared in more than seventy-five journals throughout the U.S., Europe and Canada and has been translated into seven languages.
In addition to writing poetry, John is a critic, editor and collaborative translator. He has published a critical book on the nuclearism and contemporary American poetry, a guidebook to Ezra Pound's Venice (co-authored), and a biography of Armenian poet Hmayeak Shems (co-authored). He has co-edited two collections of critical essays on modernist poetry, as well as two international anthologies of poetry. He has also collaborated on translations of poetry and prose from Serbian, Italian, Armenian, Chinese, and French.
For his work, John has received an NEA Creative Writing Fellowship (1993), a Fulbright (Serbia, 2007), a Research Fellowship from the Institute for Advanced Study, University of Minnesota (2006), and several artist grants from the Louisiana Division of the Arts, as well as other awards, and has held visiting lectureships in Rome, Venice, Belgrade, Beijing, and Salamanca, and at universities and colleges throughout the U.S. At UNO, he is Founding Director of the Ezra Pound Center for Literature, Brunnenburg, Italy, now in its 27th year of offering students summer seminars in Ezra Pound's poetry and Creative Writing at a castle in northern Italy which is the home of Pound's family. In 2017 John will serve as the Secretary and, for the sixth time, Co-convener of the Ezra Pound International Conference, to be held at the University of Pennsylvania. He is also Series Editor of the EPCL Book Series at Clemson University Press.
In 2015-2016, John was a Visiting Poet at colleges in Florida, New York, Maryland, Tennessee, and elsewhere. As a recipient of a 2016 CEO Summer Award from the UNO Office of Research, he delivered papers at the T.S. Eliot Society conference in Rapallo, Italy, and the Imagism/Richard Aldington Conference in Philadelphia, as well as did research on Pound's Cantos in Verona, Ravenna and Rimini. He also read poems with others at the Walt Whitman House in Camden, New Jersey.
As a member of English and Women's and Gender Studies faculty, John teaches both campus and online courses. His recent courses include Poetry Writing courses from introductory to advanced graduate levels, graduate courses in Early American Poetry (from Bradstreet to Dickinson), Modern American Women's Poets, Six Mid-20th Century American Poets (Bishop, Rukeyser, Berryman, Jarrell, Lowell, and Brooks), Craft and Technique of Poetry, and Poetry as a Genre, as well as undergraduate/mixed courses in the Modernist Revolution in Poetry, Robert Lowell and Confessionalism, Emily Dickinson, and American Immigrant Poetry. He is the Faculty Advisor of the undergraduate student group, Creative Arts Movement.
Selected Publications: Poetry
Charlemagne: A Song of Gestures (Plumbers Ink, 1983), Plumbers Ink Award
The Enemies of Leisure (Story Line, 1995), Critic's Choice Award (San Francisco Review of Books), Publisher's Weekly Best Book of Poetry 1995
American Ghost/Americki Duh(bilingual, tr. by Biljana D. Obradovic, Cross-Cultural, 1999), European Award, Circle Franz Kafka (Prague)
Davenport's Version (Portals, 2003)
A Gallery of Ghosts (UNO P, 2008), Times-Picayune Best Book of 2008
Lure/Mamac (bilingual, tr. by Svetlana Nedeljkov, 2012)
Have at You Now! (CW Books, 2014), Nominee, Pushcart Prize

Selected Publications: Prose
Nuclear Annihilation and Contemporary American Poetry: Ways of Nothingness (UP of Florida,1996)
In Venice and in the Veneto with Ezra Pound, with Rosella Mamoli Zorzi and others (Supernova, 2007)
Hmayeak Shems: Armenian Poet of Pure Spirit, with Vahe Baladouni (UP of America, 2010)

Edited Books
Ed. with William Pratt, Ezra Pound: Ends and Beginnings (AMS P, 2011)
Ed. with Caterina Ricciardi and Massimo Bacigalupo, The Poets of the Sala Capazucchi (bilingual) (UNO, 2011)
Ed. with Daniel Kempton and H.R. Stoneback, Imagism: Essays on Its Initiation, Impact, and Influence (UNO, 2013)
Ed. with Richard Parker, In Place of Love and Country: Poems in the Pound Tradition (Crater P, 2013)

Links
Publcations on UNO Scholarworks