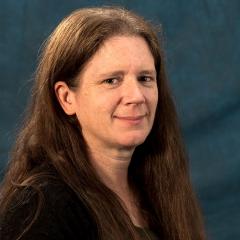 Education
MFA, University of New Orleans, 1998
About
Jennifer Kuchta was born in northern Minnesota but spent the majority of her life in Colorado hiking, camping, rock climbing, skiing, snowboarding, and showing American Quarter Horses. She received a BFA in Graphic Design from Colorado State University with a minor in Creative Writing.
In 1995, leaving her horses and mountains behind, Kuchta moved to New Orleans to attend the University of New Orleans' Creative Writing Workshop, where she concentrated on writing fiction and received her MFA in 1998.
Upon completion of graduate school, Kuchta took up the martial arts and earned a black belt in kickboxing. She also became a nationally ranked amateur boxer and twice competed in the Women's National Golden Gloves boxing tournament.
Kuchta returned to UNO as a full-time instructor in 1999 and has been there ever since. She teaches Freshman Composition, Reading Fiction, New Orleans Literature, and both the beginning and advanced levels of the undergraduate Fiction Writing Workshop.
Her short story "Mosaic" can be found in the recently released anthology Monday Nights: Stories from the Creative Writing Workshop at the University of New Orleans as well as in Gris-Gris: An Online Journal of Literature, Culture, and the Arts. Less recently, her fiction has been published in Life in the Wake: Fiction From Post-Katrina New Orleans, The Greyrock Review, The Southern Anthology, Rive Gauche, and UNO's own Ellipsis. Her non-fiction can be found in Year Zero: A Year of Reporting From Post-Katrina New Orleans, Soul is Bulletproof: Reports From Reconstruction New Orleans, and Where We Know: New Orleans as Home.
Book Recommendations: Once Were Warriors, Alan Duff; The Bone People, Keri Hulme; Jump, Nadine Gordimer; and Kon-Tiki, by Thor Heyerdahl.