Janet Barnwell Smith, Ph.D.
Retained Instructor
Director, Greater New Orleans Writing Project
Director, First-Year Writing Program
Contact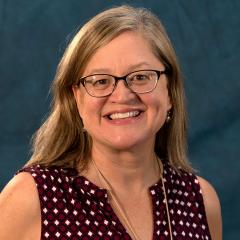 Education
M.A., University of New Orleans
Ph.D., LSU, 2002
About
Janet Barnwell Smith, Ph. D., a New Orleans native, has taught with UNO's English Department since 2002 and was named Retained Instructor of English in 2008. She has taught for the Department of English at Louisiana State University and for UNO's summer study abroad program at Innsbruck, Austria. Her background includes completion of a master's thesis; an edited collection of oral histories, "Louisiana Voices: Remembering World War II;" and a doctoral dissertation. The latter, entitled "Narrative Patterns of Racism and Resistance in the Work of William Faulkner," focuses on the narrative strategies Faulkner employs to examine racial hatred and complicity in his texts. The dissertation also proposes that a real life lynching -- committed in Oxford, Mississippi, when Faulkner was a boy -- became a key influence on his later writing on race. The dissertation is available to read online.
Currently, Dr. Smith teaches New Orleans Literature, American Literature (Civil War to present), and 1158 Composition. She hopes to offer a special topics course on American Expatriates, writing during the Modern period: Eliot, Pound, Wharton, James, Hemingway, and Fitzgerald.
Smith lives with her husband, Guerry, and their young son, Ethan, in the Faubourg St. John section of Mid-City.