David C. Podgorski, Ph.D.
Contact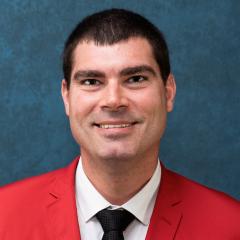 Education
B.S., Gardner-Webb University
Ph.D., Florida State University
Postdoctoral Research, National High Magnetic Field Laboratory
About
I received my B.S. in Chemistry from Gardner-Webb University in 2007. My Ph.D. research was on separation and selective ionization of under characterized fractions of natural organic matter, advised by Dr. William T. Cooper at Florida State University. After my defense in 2011, I completed an 18 month postdoc with Dr. Alan G. Marshall at the National High Magnetic Field Laboratory. I then stayed on with Dr. Marshall as a Research Scientist for five more years. I studied both petroleum and environmental chemistry during my time in the Marshall Group from 2011-2017. I began as Assistant Professor in the University of New Orleans Department of Chemistry and Pontchartrain Institute of Environmental Sciences in 2017. I also have an appointment as an Affiliate Professor of Chemistry at the University of Alaska Anchorage. My main areas of research are related to the fate of water-soluble hydrocarbon oxidation products in aquatic ecosystems and more recently, the behavior of asphaltenes in petrochemical process. I am always looking for new collaborations, so please feel free to contact me.
Research Interests
Analytical Chemistry, Environmental Chemistry, Organic Geochemistry & Biogeochemistry, and Mobilization, Processing, and Fate of Pollutants.