Faculty Profile
Alexa Arroyo, MA Art History
Instructor - Fine Arts, Art History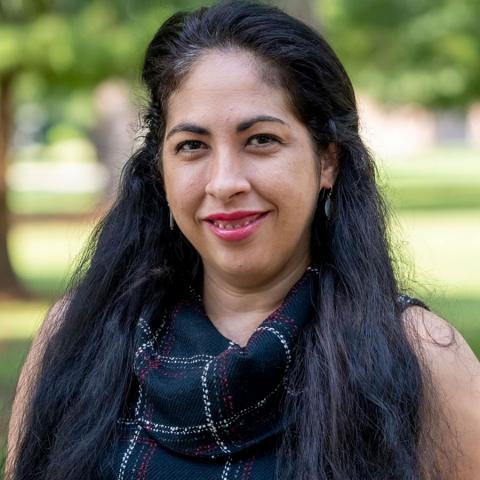 Born and raised in NYC, Alexa moved to New Orleans at the age of 18 and graduated from the University of New Orleans in 2005. She obtained her Master's Degree in Art History and Certificate in Curatorial/Museum Studies from Rutgers University in 2010. She is also fluent in English, Italian, Spanish and Portuguese. Alexa went on to curatorial and research positions at Princeton University as well as the NY Historical Society and the Zimmerli Art Museum. That same year, she began teaching at UNO, offering a variety of classes that range from Art Survey to more specialized classes in Renaissance, Mannerism and Baroque Art & Architecture. She also served as internship coordinator and collaborated with NOMA, Callen Fine Arts and the New Orleans Saints. Current focus includes 300 years of Art in New Orleans, the Influence of Caravaggio in Spain, developing new art historical courses and collaboration with the New Orleans Historical Voodoo Museum and NOMA.
Teaching Philosophy
Learner-centered teaching motivates students by giving them some control over learning processes. I believe that teachers make too many of the decisions about learning for students. Teachers decide what students should learn, how they learn it, the pace at which they learn, the conditions under which they learn and then teachers determine whether students have learned. Students aren't in a position to decide what content should be included in the course or which textbook is best, but when teachers make all the decisions, the motivation to learn decreases and learners become dependent. Learner-centered teachers search out ethically responsible ways to share power with students. They might give students some choice about which assignments they complete. They might make classroom policies something students can discuss. Learner-centered teaching encourages collaboration. It sees classrooms (online or face-to-face) as communities of learners. Learner-centered teachers recognize, and research consistently confirms, that students can learn from and with each other. Certainly, the teacher has the expertise and an obligation to share it, but teachers can learn from students as well. Learner-centered teachers work to develop structures that promote shared commitments to learning. They see learning individually and collectively as the most important goal of any educational experience. My courses are designed to foster a greater understanding and appreciation of art by equipping students of all backgrounds with a fundamental understanding and basic tools to analyze and discuss art. For example: Course Objective: The courses aim to create and develop the student's spectatorial, analytical and rhetorical skills in the context of his or her introduction to the discipline of Art. Learning Outcomes: 1. Methodologies: Students will demonstrate an understanding of and apply fundamental methodologies of the study of art: identification, description, formal analysis, comparison and interpretation. 2. Knowledge of cultural issues: Students will demonstrate knowledge of the cultural issues, values, and perspectives that have informed artmaking in a variety of cultures and periods. 3. Critical Thinking: Students will demonstrate critical thinking skills through a variety of discussions and assignments.
Research Interests:
2018 From Dirty Jersey to the Dirty South/Photography Book, printed in New Orleans.
2018 Tempestart.com Website published/Fine Arts, Photography and Prints
2016 Who is Magdalen? Fine Art Competition Juror
2009 New York Historical Society Photography and Architectural Collections New York, NY Exhibition: Remembering 911 (N.Y., N.Y.)
2007 Zimmerli Art Museum Morse Research Center for Graphic Arts Rutgers University, New Brunswick, NJ Exhibition: Pop Art Publication: Exhibition Catalogue: Pop Art
2005 Exhibition Coordinator, Special Project New Orleans Museum of Art Exhibition: James Castle
Education:
M.A: Rutgers University - Art History
New Brunswick, NJ
Certificate in Curatorial Studies Rutgers University - Museum Studies
New Brunswick, NJ
B.A University of New Orleans - Fine Arts
New Orleans, LA
Honors and Awards:
2006 & 200 -UNO Ambassador Award University of New Orleans
Several intermittent independent studies throughout Italy and Sicily, focusing on the work of Southern Italian Baroque artists such as Caravaggio, Mattia Preti, Massimo Stanzione and Francesco Guarino. Research conducted in Rome, Florence, Naples, Bologna and Palestrina.