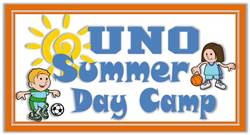 The University of New Orleans Summer Day Camp is open to boys and girls ages 5 - 11 years old. The goal of the UNO Summer Day Camp is to provide campers with the opportunity to have fun and gain new friends in a safe environment. Our staff is sensitive to the diverse growth and developmental needs of school age children. The Summer Day Camp is administered by the Department of Recreation and Intramural Sports.
Camp Activities
Swimming, sports, games, field trips, and special activity days.
Age Groups
Boys and girls will be grouped together by the following age groups:
5, 6-7, 8-9, 10-11

Camp Location
Camp is held at the Recreation and Fitness Center, located on the corner of Elysian Fields and Lakeshore Drive.

Camp Dates
Session 1: June 3 - June 28
Session 2: July 8 - August 2
*No camp will be held July 1-5
Contact Us
If you have any questions or concerns you may contact the Camp Director.
Kassie Thibodeaux
Phone: 504-280-6009
Email: kthibode@uno.edu
NOW HIRING CAMP COUNSELORS
If interested please send your resume to rissa@uno.edu.
Camp Hours
Before Camp Supervision: 7:30 a.m. - 8:30 a.m. (NO CHARGE)
(campers must not arrive before 7:30 a.m.)
Camp Activities: 8:30am - 3:00 p.m. (dismissal: 3:15 p.m.)
After Camp Supervision: 3:30 p.m. - 5:30 p.m.
Camp Session Fees
Registration Fee: $50 per camper (one time, non-refundable fee).
*The fee must be paid at time of registration and holds camper's spot. Includes one (1) t-shirt per camper.
Extra T-shirt: $12
Camp Session Fees
Number of Campers
Full Session
(4 weeks)
2 Weeks
(Consecutive)
1 Week
One Camper
$
$
$
Two Campers
$
$
$
Three Campers
$
$
$
Four Campers
$
$
$
After Camp Supervision Fees
Weekly After Camp Supervision
NO CHARGE
Daily After Camp Supervision (after 3:30 p.m.)
NO CHARGE
Late Pick-up (after 5:30 p.m.)
$5 per 15 minutes
Additional Information
Age Requirement: The child must be 5 by the start of camp to attend camp. Children that are 11, turning 12 during camp are eligible to attend camp.
Verification: All campers must present one (1) of the following original documents:
Visa
Passport
Birth Certificate
Payment Methods:
Money Order
Master Card, Discover, American Express or Visa
*2.3% service fee on credit card transactions.
No checks accepted

Session Fee Includes:
Before/After Camp Supervision
Daily Activities
Lunch
Swimming
Field Trips
Snacks
Insurance

Camp Attire: Campers must wear shorts, camp t-shirt, and tennis shoes daily-NO OPEN TOED SHOES.
Swimming: Please make sure campers bring their swimsuit and a towel on their swim days. Swim shoes are allowed. Please label all items with the camper's name.
Camp Closure: At any time during the camp day, the University reserves the right to cancel camp due to unforeseen circumstances beyond its control.
Refunds: Refund requests may be considered and MUST be submitted in writing. Refunds approved will be subject to a $50 per week cancellation fee. There will be no refunds for a session once that session has begun. The $50 registration fee is NON-REFUNDABLE. In addition, REFUNDS WILL NOT be ISSUED for any closure days the University deems necessary. However, if an ENTIRE week of a session is closed due to inclement weather refunds will be issued.
Discipline: Camp administrators reserve the right to dismiss any camper due to inappropriate behavior, language, and fighting. NO REFUNDS for campers dismissed from camp.
Lost and Found: Please label ALL personal items with the campers' name. The camper is responsible for his or her necessary items brought to camp (EX: swimsuit, towel, camp shirt, socks, shoes). Cell phones MUST be kept in the camper's bag, please do not send electronic games/devices, trading cards, etc. to camp.
Number of Campers: Age groups are as follows: 5, 6-7, 8-9, 10-11. Boys and girls will be grouped together. We reserve the right to cancel any week with less than 50 campers in attendance.